Voyage aux Indes Orientales et a la Chine (3 volume set)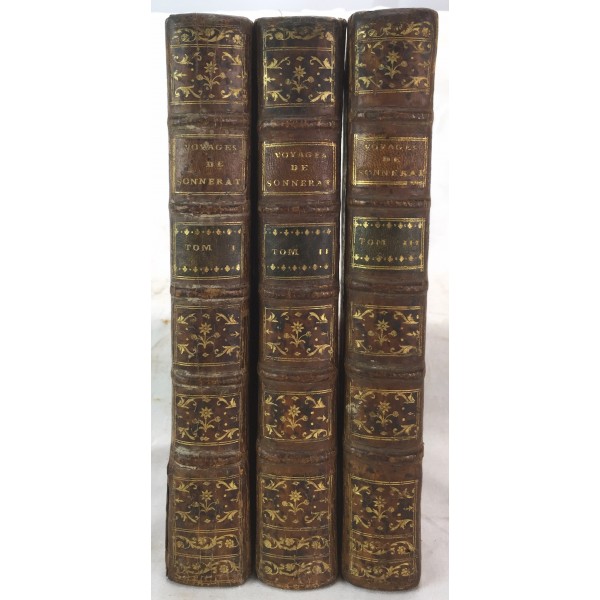 Voyage aux Indes Orientales et a la Chine (3 volume set)
Pierre Sonnerat; Jean-Baptiste Marie Poisson; Milliere, graveur.; Jean-Michel Papillon; Roche, graveur.; Philippe-Denis Pierres; Jacques-Francois Froulle; Jean-Luc Nyon; Pierre-Theophile Barrois
A Paris, chez l'auteur, rue S. Andre-des-Arts, vis-a-vis la rue de l'Eperon, maison de M. Menissier, marchand d'etoffes de soie. Froule, libraire, pont Notre-Dame. Nyon, rue du Jardinet. Barrois, le jeune, rue du Hurepoix. M. DCC. LXXXII. Avec approbation et privilege du Roi, 1782.
3 tomes. 2nd ed. Octavo. XXII-340 p., 1 folding map, 1 folding plate; [6]-376 p., 2 folding plates; [6]-362 p., 3 folding plates. Complete, with 7 total folding plates. Bound in contemporary French mottled calf. Solid bindings. Gilt stamped spines. 5 raised bands. All edges red. Marbled end pages. Scattered, minor dampstaining. Engraved by Poissin.
Refs: Cordier, Sinica 2102; Hill 578; Nissen, IVB 886; Pritzel 8774. Lowendahl 631; Western Travellers in China 45.

"The French naturalist and explorer Pierre Sonnerat (1748-1814) was the nephew of the botanist Pierre Poivre. He made several voyages to Southeast Asia, visiting the Philippines and Moluccas between 1769 and 1722, and India and China from 1744 to 1781. His work is considered a classic of natural history and discoveries in the Far East" (Western Travellers in China).
Full title: Voyage aux Indes Orientales et a la Chine: fait par ordre du roi, depuis 1774 jusqu'en 1781. Dans lequel on traite des moeurs de la religion, des sciences & des arts des Indiens, des Chinois, des Pegouins & des Madegasses; suivi d'observations sur le cap de Bonne-Esperance, les isles de France & de Bourbon, les Maldives, Ceylan, Malacca, les Philippines & les Moluques, & de recherches sur l'histoire naturelle de ces pays.
This is an oversized or heavy book, that requires additional postage for international delivery outside the US.