The Works of Booth Tarkington. "Autograph Edition" (Signed by Tarkington, 13 volume set)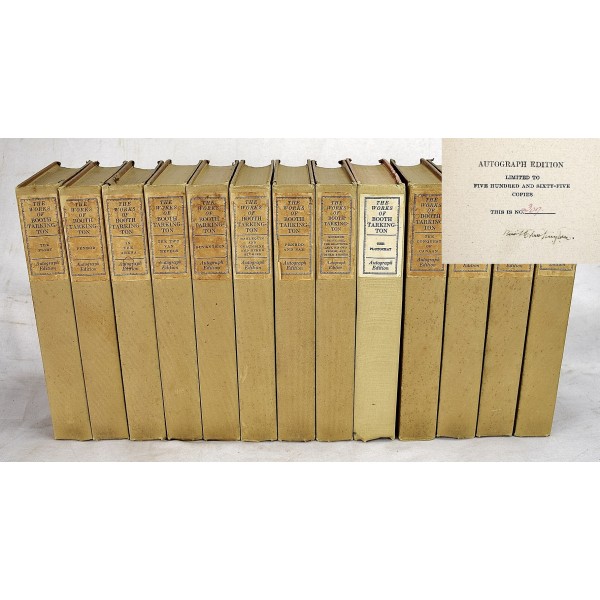 The Works of Booth Tarkington. "Autograph Edition" (Signed by Tarkington, 13 volume set)
Booth Tarkington
Garden City, New York, Doubleday, Page and Company, 1918
13 Autograph edition, Limited to 565 copies. Signed by the author, on vol. 1, the Gentleman from Indiana. Cloth spines, over gray boards. Printed spine labels. Clean, unmarked pages.
Contents: I. The gentleman from Indiana. --II. The two Vanrevels. --III. The guest of Quesnay. --IV. The flirt. --V. Penrod. --VI. Penrod and Sam. --VII. In the arena. --VIII. Harlequin and Columbine, and other stories. --IX. Monsieur Beaucaire. The beautiful lady. His own people, and other stories. --X. The turmoil. --XI. The conquest of Canaan. --XII. Seventeen. --XX. The Plutocrat.
Originally projected as a 12 volume set, in subsequent years additional volumes were printed. Tarkington won the Pulitzer Prize for fiction twice, for Alice Adams and The Magnificent Ambersons.
This is an oversized or heavy book, which requires additional postage for international delivery outside the US.