Paralelle des Cinq Ordres D'architecture; Tire des Exemples Antiques les Plus Excelens; et des Quatre Principaux Auteurs Modernes Qui en ont Ecrit Scavoir Paladio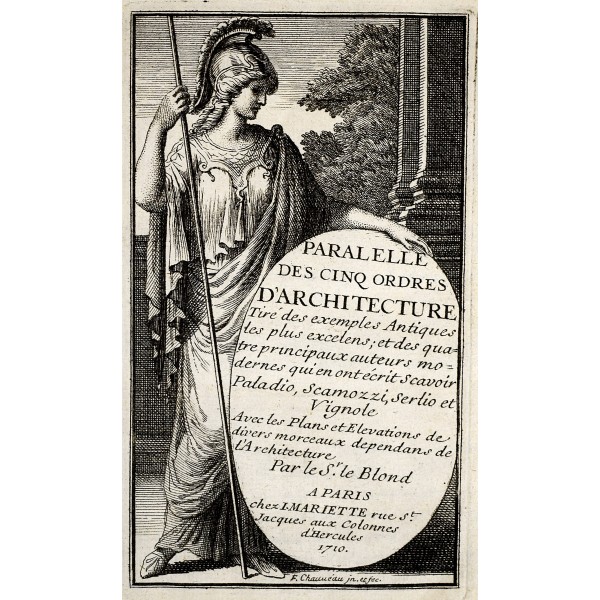 Paralelle des cinq ordres d'architecture; tire des exemples antiques les plus excelens; et des quatre principaux auteurs modernes qui en ont ecrit scavoir Paladio [sic], Scamozzi, Serlio et Vignole, avec les plans et elevations de divers morceaux dependans de l'architecture.
Alexandre Jean Baptiste Le Blond
Paris, I. Mariette, 1710
Quarto. Second edition. Engraved title, 57 plates (2 folding). Original speckled boards, raised bands. Soiling, some offsetting to plates. Lacking front endpaper. Jean-Baptitse Descamps' copy, his bookplate and signature to title page.
Descamps was a French writer of art and artist. He painted popular genre subjects in the manner of Jean-Baptiste Greuze. He became a member of the Academie Royale in Paris in 1764 and exhibited works at the Salon of 1765. He wrote instructional works, most notably his French translations of artist biographies by Karel van Mander and Arnold Houbraken in his 4-volume La Vie des Peintres Flamands, Allemands et Hollandois.
Le Blond produced the editions of the Cours d'architecture de Vignole translated with commentary by Charles-Augustin d'Aviler, which Le Blond illustrated with his own drawings. These works introduced the distinctions between state apartments (appartements de parade) and private apartments (appartements de commodités) that would characterize French eighteenth-century planning, and he popularized the small chimneypieces that would take the place of the large ones in the Italian mode, popular in the previous century. Nagler I, S. 538