Narrative of the Expedition of an American Squadron to the China Seas and Japan Performed in the Years 1852,1853, and 1854 Under the Comand of Commodore M. C. Perry, United States Navy (3 volumes)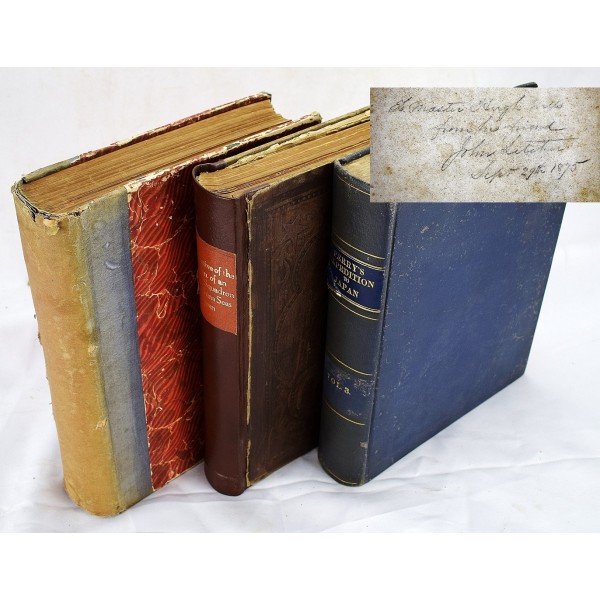 Narrative of the Expedition of an American Squadron to the China Seas and Japan Performed in the Years 1852,1853, and 1854 Under the Comand of Commodore M. C. Perry, United States Navy (3 volumes)
Hawks, Francis L.; Perry, Commodore M. C.
Washington: A. O. P. Nicholson, 1856
[Interesting Provenance: signed by Virginia's Civil War Governor John Letcher] 3 volume set. First, House edition printed by A.O. Nicholson. Quartos, 29 x 22 cm. Mixed bindings. Volume 1 is bound in contemporary 1/4 cloth over marbled boards. Volume 2 is bound in contemporary brown cloth, rebacked on 1/4 leather. Volume 3 is bound in later navy cloth with a leather spine label. Volume 2 includes a personal inscription by the Governor, as well as a tipped in portrait plate of Letcher. Collated: Vol. 1: xvii, [1], 537 pp. (illustrated with 88 plates, 2 folding plates, 4 maps, and 2 folding maps.) Vol. 2: [6], 414, [16], (illustrated with 16 chromolithographic plates, 15 [of 16] folding maps). Vol. 3: viii pp.; xliii, 705 pp. (Numerous woodcut star charts). "In January 1852 [Perry] was selected to undertake the most important diplomatic mission ever entrusted to an American naval officer, the negotiation of a treaty with Japan, a country at this time sealed against intercourse with the Occidental powers" (DAB). By March 31, 1854, the treaty granting the U.S. trading rights had been signed by the Japanese. Upon his return to the U.S., his chief duty for the following year was to compile his reports of the expedition, aided by Francis Hawks. The first volume has the account of the voyage and lithographs of the travel; the second volume has the natural history reports by D.S. Green and others and includes hand-colored plates of Japanese fishes and shells. In addition to the artist W. Heine, from whose drawings a great number of the lithographs were made, the daguerreotypist E. Brown, Jr., went on the expedition, taking what were undoubtedly the earliest photographic images of Japan, many of them reproduced lithographically in this work.
Refs: Hill 230-231; Sabin 30968.
Provenance: John Letcher was a Representative in the US Congress (1851-1859), as well as 34th Governor of Virginia during the American Civil War. He also served on the Virginia Military Institute Board of Visitors.