Miscellanea Novo Ordine Digesta (4 Volume Set) [Stephani Baluzii Tutelensis]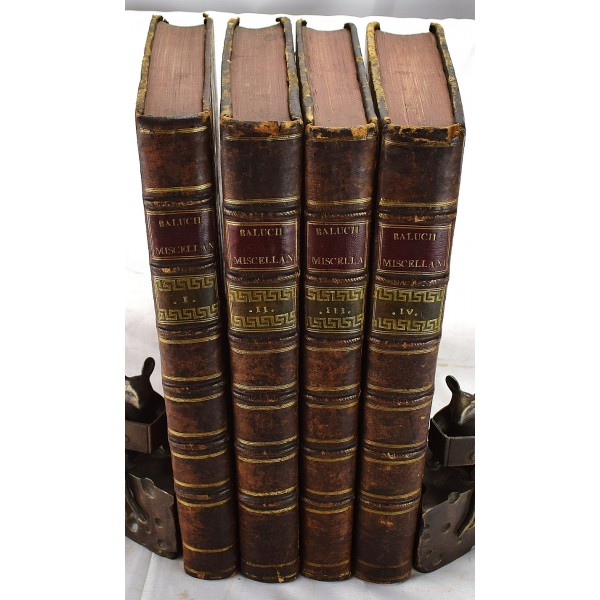 Miscellanea Novo Ordine Digesta (4 Volume Set) [Stephani Baluzii Tutelensis]
Etienne Baluze; Giovan Domenico Mansi; Baluze, Stephanus
Lucae : Apud Vincentium Junctinium, sumptibus Joannis Riccomini, 1761
4 volume set. Printed 1761-64. Folios, 38 cm. Bound in contemporary acid-calf, with green spine labels. Gilt ruled spines compartments, 6 raised bands. Good bindings and covers. Marbled end pages. Internally generally very good. Woodcut illustrations on title pages. XII, 604 p.; XVIII, 542 p.; VIII, 610 p.; VIII, 660 p. Printed in two columns. Contents: t. 1. Momumenta historica tum sacra tum profana; t. 2. Monumenta sacra; t. 3. Monumenta diplomatica & epistolaria; t. 4. Monumenta miscellanea varia.
An large work in medieval church history. According to Sotheby's the "Best edition of a monumental work" p. 11. - Catalogue of Illuminated Manuscripts and Rare Printed Books, Sotheby, Wilkinson & Hodge, 14 May 1902. Graesse I, p. 284.
Small embossed stamp of the American Congregational Association, Boston. 19th century bookseller tag of J. Leslie, London.
This is an oversized or heavy book, which requires additional postage for international delivery outside the US.