Manhattan Fifteenth Year Reader. 1995: The Grim Years.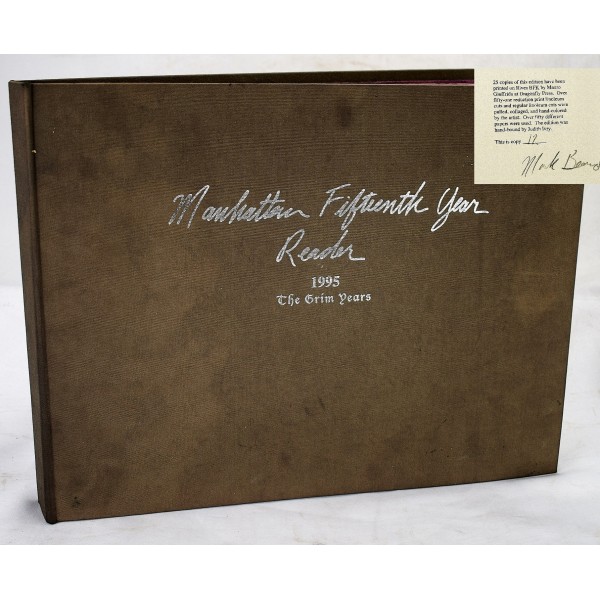 Manhattan Fifteenth Year Reader. 1995: The Grim Years.
Mark Beard
[New York]: Feard Press, 2002
[Art of the AIDs Epidemic: the Gay Experience in America] Beard wrote this book as a sequel to his "Manhattan Third Year Reader," the artists' interpretation of the ravages of HIV/AIDs. Super limited edition of only 25 copies, signed by the author. Oblong folio; 30 x 39 cm (11 3/8 x 15 inches). Hand-bound by Judith Ivry, in cloth, lettered in silver. Cloth dulled to gray. Internally fine. 40 unnumbered leaves. 17 pages of text silkscreened (on versos only) in the artist's handwriting; collaged linocuts hand-colored by the author. From the colophon: "Over fifty-one reduction print linoleum cuts and regular linoleum cuts were pulled, collaged, and hand-colored by the artist. Over fifty different papers were used." A rare view of AIDs from a gay artist that lived through it. From the work: "Georg and Craig are my daily dead... They died in 1995. Georg was my lover and best friend... Craig was Georg's roommate. He became our little brother. We were a family. I made scenery for Georg's plays. Craig taught me photography and bound my books. Georg and I had hideous fights, Craig mediated. He was gentle and kind, though sometimes aloof. His death was cruel and horrible. Georg comes to me regularly in dream and I am happy, only sad in waking. When Craig comes it is with anger and guilt." Beard concludes his work with these words, "Hope triumphs over corrupted endeavor." This is a special book of emotion, sadness, and memory of those lost.