La Graunde Abridgement - 1565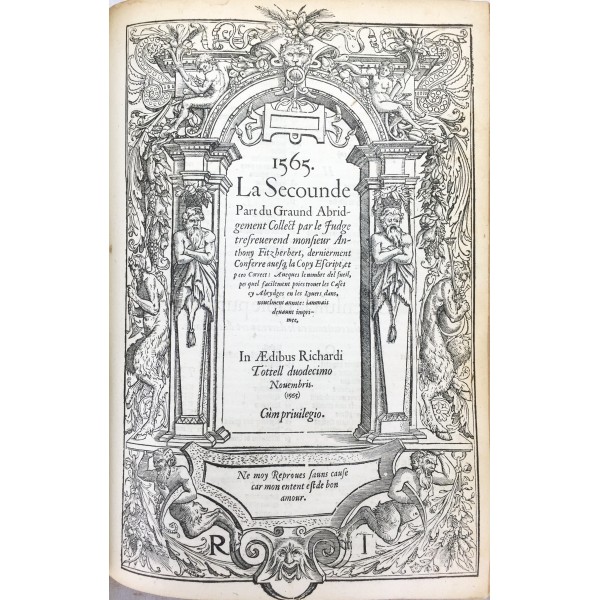 La Graunde Abridgement, Collecte Par Le Iudge Tresreverend...
Fitzherbert, Anthony;. 3 books in two parts

 In aedibus Richardi Tottell, vicesimo quinto Ianuarij (Richard Tottell), London, 1565

First Tottell edition. Thick folio. 3 parts bound as one. Collated: 379; [1], 128; [1], 207 leaves. Volume 2 has separate title page. Volume one lacks the title page. Rebound in 20th century cloth with leather spine labels.  Strong binding.  Wood cut initials, title.  Pages generally clean.  One page has old marginalia (Fol. 339), faint toning.  There is a small cut through the first 8 leaves. Black letter, Law French.  Generally clean and crisp internally. 
Refs: STC 10956; Beale R464 & R465; Cowley 55; ESTC S122166.  
Anthony Fitzherbert was an early English jurist (1470-1538) during the reign of Henry VIII.  First published between 1514-1517, Fitzherbert's Graunde abridgement was an attempt to systematically arrange centuries of medieval English common law.  Fitzherbert abridged 13485 of the most significant case-notes taken from Year Books (Liber Assisarum) and from other sources into 263 titles.  (DNB, p. 169)   Coke describes it as 'painfully and elaborately collected.'  Fitzherbert's work served as a foundational work for subsequent efforts of Sir Robert Brooke and others.   By helping to codify common law, Fitzherbert's work helped establish limitations to the royal prerogative and the roots of commonly held rights. 
Thomas Jefferson owned a 1577 copy.  (Sowerby, Catalogue of the Library of Thomas Jefferson 1776)  This is an oversized or heavy book, that requires additional postage for international delivery outside the US.