Histoire Universelle, Depuis le Commencement du Monde Jusqu'a Present (119 volume set)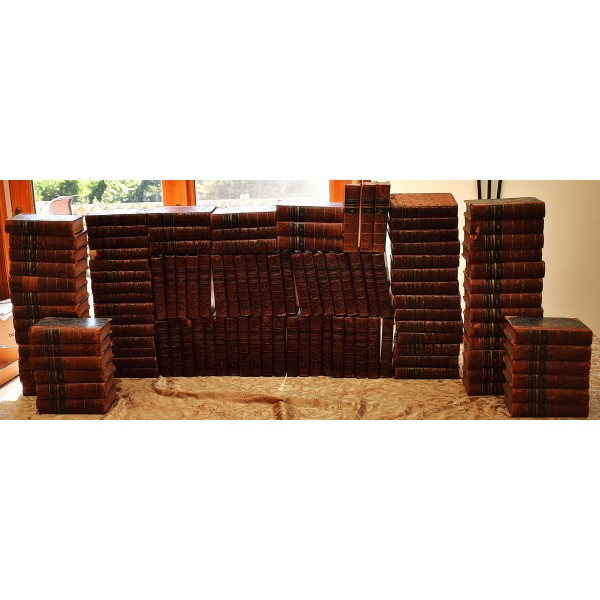 Histoire Universelle, Depuis le Commencement du Monde Jusqu'a Present (119 volume set)
George Sale; George Psalmanazar; Archibald Bower; John Swinton; George Shelvocke; John Campbell
Paris : Au Bureau & chez Moutard, 1779
Massive 119 volume set. Volumes 1-111, 113-120. (Lacks vol. 112) Bound in contemporary mottled letter or 3/4 leather. 117 folding maps, 36 plates (27 folding). French translation of "An universal history from the earliest account of time," first published in 1736-1765 and later in 1747-1768. Pages are generally clean and unmarked.
Sale, et al's Universal history was one of the first attempts to unify the history of Western Europe with the stories of the world's other known cultures. It was widely influential with five translations into Italian, two into French, one into German (Allgemeine Weltgeschichte), as well as David Ramsey's abridgement, "Universal History Americanized." The orientalist, George Sale organized the project along a novel line, where the history of the universe was separated from the history of man. The first volumes contain ancient history (Asiatic history, the Israelites, Celts, Ancient Greece, Etruscans, Germans, Carthaginians, Gauls, Arabs, Turks, Tartars, and Moguls), later volumes feature modern world history (Ottoman Turks, Africa, Abyssinia, Barbary, Spain, France, Italy, Venice, the Tuscan States, the German Empire, the United Provinces, Denmark, Sweden, Poland, Russia, America, Hungary, Portugal, Bohemia, Saxony, Geneva, etc. ec). The modern history contained a western view of colonial expansion and exploration, but also gave a western view of the historical identity of the peoples of China, India, Japan, Persia, Africa and the Americas.
Brunet III, page 212.
This is an oversized or heavy book, which requires additional postage for international delivery outside the US.