Histoire Civile du Royaume de Naples (4 tomes)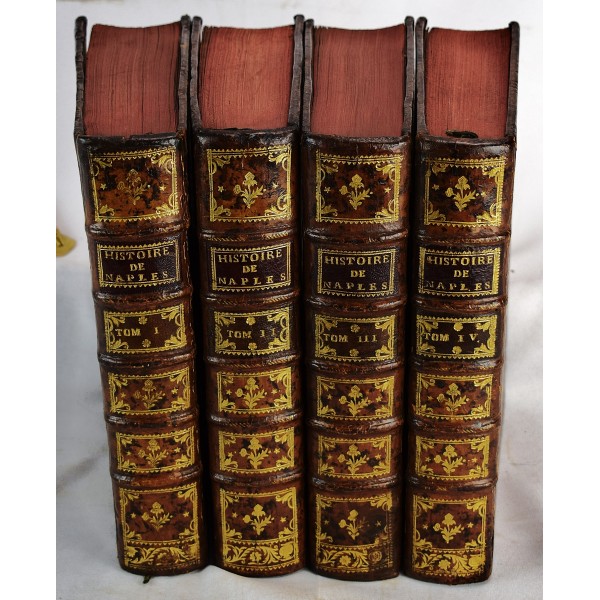 Histoire Civile du Royaume de Naples (4 tomes)
Pietro Giannone; Desmonceaux de Villeneuve
chez Pierre Gosse, & Isaac Beauregard, 1742
4 volume set. 1st French edition. Quartos, 25.5 x 21 cm. Bound in handsome contemporary mottled French calf.  Gilt ruled in six spine compartments.  Very good bindings and covers. All edges red. Marbled end sheets. An early history of the Kingdom of Naples, translated into French by Desmonceaux de Villeneuve from the 1723 Italian edition.  Engraved frontispiece. Engraved vignettes on title pages.
Contents: Vol. 1 Dans lequel il est traite du gouverneur de ce royaume, sous les Romains, les Gots, les Grecs, & les Lomeards; Vol 2. Qui comprend le gouvernement de ce royaume sous les princes Normands, & sous ceux de la Maison de Suabe; Vol. 3 Dans lequel est contenu le gouvernement du royaume sous les rois Angevins & Aragonois; Vol. 4 Qui comprend le gouvernement de ce royaume sous le princes de la Maison d'Autriche. 
Brunet, II, 1584.

This is an oversized or heavy book, which requires additional postage for international delivery outside the US.