Great Britain's Just Complaint for her Late Measures, Present Sufferings, and the Future Miseries she is Exposed To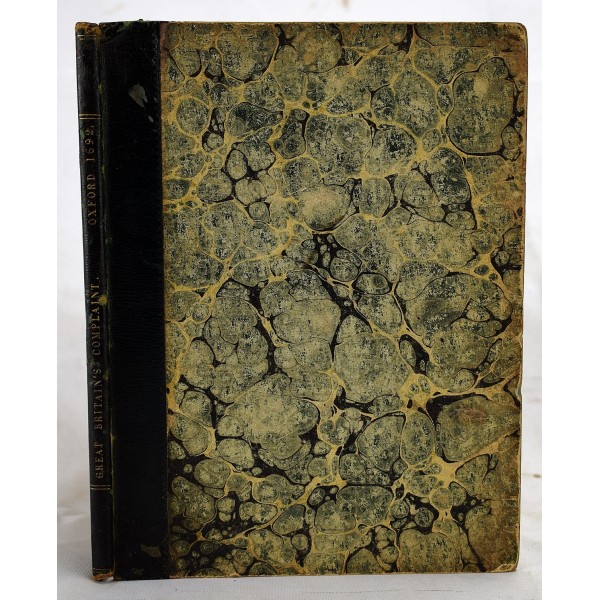 Great Britain's just complaint for her late measures, present sufferings, and the future miseries she is exposed to : with the best, safest, and most effectual way of securing and establishing her religion, government, liberty, & property upon good and lasting foundations, fully and clearly discovered in answer to two late pamphlets concerning the pretended French invasion
James Montgomery, Sir
Oxford : [publisher not identified], 1692
2nd ed. corrected, printed the same year as the first. Small 4to. Bound in later leather-backed, marbled boards. Good binding and cover. 61 pages. Conserved margin tear on last 3 leaves. William Cavalier's bookplate, 'Ceci est mon livre.' Wing M2505. Sir James Montgomery of Skelmorlie (d. 1694) was a Scottish Laird and Member of Parliament, best known for the Montgomery Plot to restore James II (VII) to the thrones of England and Scotland.
Montgomery was one of three Scottish commissioners who presented the Scottish throne to William. An interesting pamphlet from the Restoration era. Montgomery was responding to: "The Pretensions of a French Invasion examined for the information of the People of England," and "A Letter to a Friend concerning the French Invasion." The First attributed to Daniel Finch, William Lloyd, and Thomas Comber.
The Dictionary of National Biography has a detailed description of the plot: Montgomery "went to present a declaration of Scottish grievances to the king, but the king declined to listen to their complaints. Thereupon Montgomery entered into communication with the Jacobite agent, Neville Payne, and they concerted together a plot for the restoration of King James, known as the Montgomery Plot... Montgomery's coalition with the Jacobites" was more of "a hindrance than a help in parliament, and as soon as his influence began to wane the Jacobites revolted against him. A quarrel ensued, and soon afterwards Lord Ross made confession of his connection with the plot to a presbyterian minister, who informed Melville. On learning this Montgomery went to Melville, and on promise of an indemnity confessed all he knew, making it, however, a condition that he should not be obliged to be 'an evidence or legal witness' Melville sent him, with a recommendation in his favour, to Queen Mary, to whom he pleaded for 'some place which might enable him to subsist with decency.' She wrote on his behalf to King William, but the king had conceived such an antipathy to him that he declined to utilise his services on any consideration. According to Burnet, Montgomery's art in managing such a design, and his firmness in not discovering his accomplices raised his character as much as it ruined his fortunes' After lying for some time in concealment in London, he passed over to Paris, where he was well received by the Jacobites." He "returned to London, and on 11 Jan. 1693-4 was taken into custody, on the accusation of being the author of several virulent papers against the government." "Montgomery was the author of 'The People of England's Grievances to be enquired into and redressed by their Representatives in Parliament,' reprinted in 'Somers Tracts,' x. 542-6." Which, of course, is this tract.