Eyewitness and the Origin of the Tanks (Signed)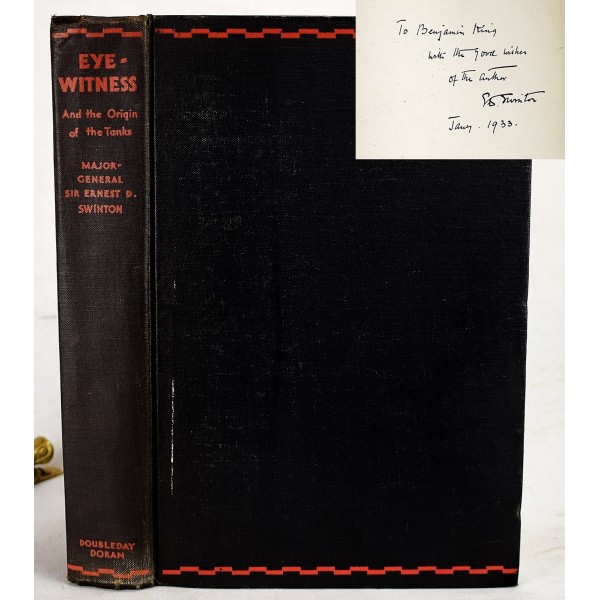 Eyewitness and the Origin of the Tanks (Signed)
Swinton, Maj. Gen. Ernest.
Doubleday, 1933
[British Militaria Development During the Interwar Years.] Inscribed by Major General Ernest D. Swinton to Benjamin B. King on front end page. Bound in publisher's cloth. Hardcover. Shelf wear. Water damage to edge. xiii, 332 p., ill., 23 cm.
"Benjamin B. King was an intelligence officer for the British Royal Air Force during World War II. After World War 2 broke out in Europe in September 1939, he joined the British Royal Air Force as a 'penguin' who could not fly because of eyesight problems. He was assigned to Coastal Command at the airbase in Wick in the very north of Scotland, which provided defense for Britain in the North Sea, engaging the Germany Navy and Air Force. After his stint at Wick, Ben was transferred to the vital but vulnerable British base at Gibraltar off the coast of Spain, where the British monitored German and Italian military operations in the Western Mediterranean. While in Gibraltar, one of his tasks was to listen to Luftwaffe radio communications and track the movement of German and Italian airplanes. After Gibraltar, Ben was called back to Britain and assigned to the secret British code-breaking operations at Bletchley Park in England, which played a critical role in the Allies' war effort by monitoring and decoding German military communications and ultimately breaking the German Enigma code." - Obit.
"Sir Ernest Dunlop Swinton (1868-1951) was one of the driving forces behind the creation and adoption of the tank by the British during the First World War. Lord Kitchener, the War Minister, appointed Swinton the official British war correspondent on the Western Front; journalists were strictly barred from the battlefield. Swinton's necessarily anodyne accounts of the conduct of the war were personally vetted (and censored) by Kitchener prior to release to the press. His reporting may have been bland but Swinton was alarmed at what he saw on the Western Front, how the infantry were cut down in swathes by machine gunnery. He therefore set his fertile mind to the task of determining how the war might be better fought in trench conditions. During Christmas 1914 he chanced to see a Holt's tractor towing a gun - which gave him the inspiration for the tank. He quickly wrote a memo suggesting the development of what became known as the tank and sent it (despite lack of interest from the then-Commander in Chief Sir John French and his advisers) to Maurice Hankey, Secretary of the War Council in London. Hankey, who was himself intrigued by Swinton's idea, passed the note to the First Lord of the Admiralty, Winston Churchill. Churchill soon envisaged the potential benefits of such a weapon and, with Lloyd George's support, established the Landships Committee to design and manufacture a test model. Once the prototype tank had been successfully demonstrated to Churchill and Lloyd George (among others) the latter authorised immediate production of the weapon to begin. Too late for the start of the Somme Offensive, its battlefield debut came at Flers in September 1916. It became a battlefield staple for the remainder of the war and beyond." - First World War