Christian Witness (160 issues; 1836-1839)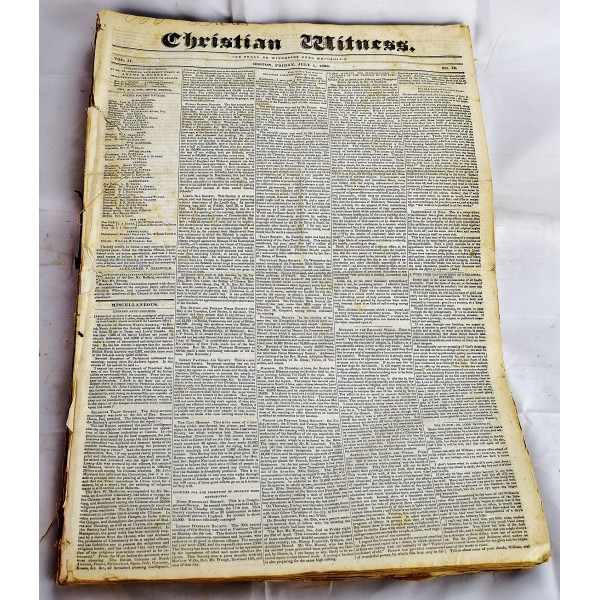 Christian Witness (160 issues; 1836-1839)
O. Sheple, Jr.
Adams & Torrey; Torrey & Blair; Ira Warren, James B. Dow, 1836
160 issues. July 1, 1836 - Sept. 6, 1839. Large collection of the Christian Witness, a Massachusetts Episcopal weekly newspaper. Contains: Volume II, Nos. 19-28, 30-52.; Vol. III, 1-23, 25-52; Vol. IV, 1-13, 15-52; Vol. V, 1-8, 10-28. Folio. Dimensions: 38 x 53.5 cm. Additional condition notes: Some minor tears to first 6, as well as a few subsequent issues. Scattered spotting. Some discoloration/toning, especially the later issues.
The Christian Witness as an early 19th century Massachusetts weekly, published for the Massachusetts Episcopal Convocation. The articles deal contemporary issues from a Christian perspective. Most of the news concerns local Massachusetts / Connecticut news, as well dedicated sections for Missionaries (covering activity in China, India, the Sandwich Islands, and around the world), Temperance, Sunday School, poetry, literature, marriages, and deaths. An interesting article deals with the work of Thomas Paine. Additional articles cover Sequoyah, the creator of the Cherokee writing system. Quite extensive!
This is an oversized or heavy book, which requires additional postage for international delivery outside the US.