The Barnum & Bailey Greatest Show on Earth Songster. (Circus)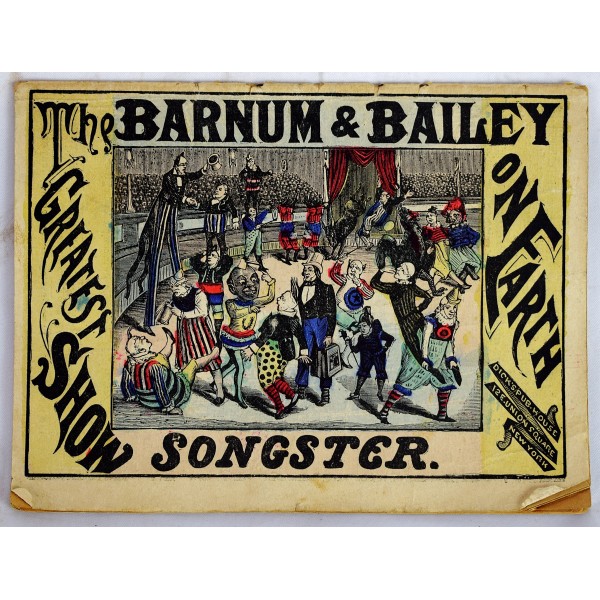 The Barnum & Bailey Greatest Show on Earth Songster. (Circus)
Dick's Publishing House
New York : Dick's Pub. House, 1893
17.5 cm. 32 unnumbered pages, 2 page ads in rear. Ads to verso of wrappers. Original illustrated wrappers. Colored borders and hand coloring to front wrap engraving. Wear to edges, pages toned. Corners chipped. Circus Songster.
During the Golden Age of the Circus, many songster pamphlets were associated by a particular clown or show performer that sang the songs for the Circus. Most of the songs contained in these pamphlets were popular songs of the day as well as the songs sung by the performer.
Included in this pamphlet are the following songs and artists are: Parody, Ta-Ra-Ra-, Boom-Der-e, by H. F. Allen; Now, He's Sorry That He Spoke; Polly O'Neill by William B. Glenroy; Don't Cher Know?; When Pop Was A Little Boy Like Me by George B. Howard; Honey, I'll Never Leave You by Leona Fontainebleau Jerome; The Minstrel Street Parade by Ramsdell & Banks; No Place Like Home by Vic Richards; Doctor Kill 'Em Quick by The Big 6 Company; Never In A Case Like That by Gus Banks; The Kicking Mule by Vic Richards; Once Was Enough by Vic Richards; These Bones Shall Rise Again by A.S. Palmers & Co.; When This City Elects A New Mayor by Silver Co.; As I Sat Upon My Dear Old Mother's Knee by M.J. Cavanagh; Where The Chicken Got The Axe by Harry Mayo; I've Heard From The Man In The Moon by D.L. White; Her Name Was Mary Ann by G.R. Clark; McNulty, You're A Daisy by John C. Rabisch; Mine, All Mine by Harry Dacre; Irish Jubilee by M. Witmark & Sons; Parody on Maggie Murphy's Home by Vic Richards; And The Band Played On by Gus Banks.