A march on London;: Being a story of Wat Tyler's insurrection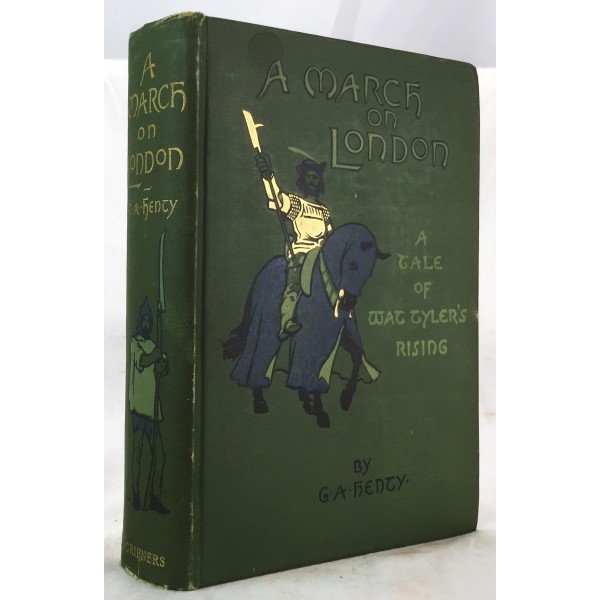 A march on London;: Being a story of Wat Tyler's insurrection,
Henty, G. A
C. Scribner's Sons, 1897.
1st ed. vi, [2], 339, 32 pages, [8] leaves of plates : illustrations ; 19 cm. Bound in publisher's handsome pictorial cloth. Hardcover. Good cover. Some of the quires off. Clean, unmarked pages.
George Alfred Henty was a prolific English Victorian novelist and war correspondent (1832-1902). Henty served with the British army in the Crimea. He was with a well traveled war correspondent, following the Austro-Italian war of 1866, accompanying Garibaldi at Tirolese. Also he journeyed with Lord Napier through Magdala and Lord Wolseley to Kumassi. He was at the opening of the Suez Canal. He reported the Franco-German War, starved in the the siege of the Paris Commune, and then went to cover the Carlist insurrection in the Pyrennees. "He was in Asiatic Russia at the time of the Khiva expedition, and later saw the desperate hand-to-hand fighting of the Turks in the Serbian War. " Ency. Brit. Vol. 13, p. 303.
Henty went on to write over 112 books and over 80 for a juvenile audience. Many of his books feature boys or young men in tumultuous times. Henty was an important popular writer for the advancement of British Imperialism. Kathryn Castle states that, "Henty...exemplified the ethos of the new imperialism, and glorified in its successes," Reading Colonialism through children's books and magazines. Manchester, 1996. p. 55.