Biblia Sacra Vulgatae Editionis Sixti v. & Clementis VIII ... Autoriate Recognita. Editio Noua, Notis Chronologicis et Historicis Illustrata. Una cum Sacra Chronologia, Atque Geographia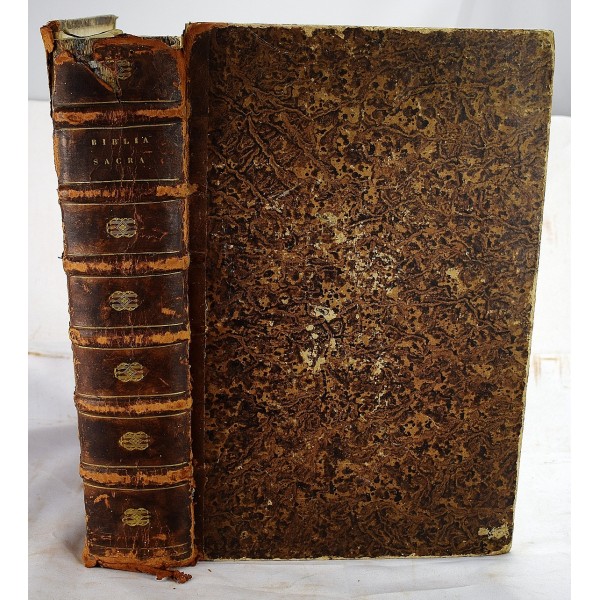 Biblia Sacra Vulgatae Editionis Sixti v. & Clementis VIII ... Autoriate Recognita. Editio Noua, Notis Chronologicis et Historicis Illustrata. Una cum Sacra Chronologia, Atque Geographia
ntoine Vitre; Jacobus BONFRERIUS; Claude Lancelot, Grammarian
Paris: Excudebat Antoine Vitre, Regis & Cleri Gallicani typographus, 1662
Thick folio, 44 cm. Bound in contemporary leather-backed boards. Joints cracked. Spine ends chips, but binding holding. Collation: 4 pages leaves, xvj, 765 pages, 1 leaf, 222, 16, [12], lxxxviij, [32] pages. 2 double-page, folding maps engraved by Nicolas Sanson. The maps have been outlined in color. Printer's vignette on title, as well as printer's devices throughout. Printed in two columns. Minor marginal worming to a few leaves.
19th century signature of J. William Huttinger (John or Johann Wilhelm, b. 1836 in Germany, signed by him while he lived in Paris, and also when he lived in Beverly, Burlington Co, New Jersey). He married Alice E Reynolds Huttinger (1853-1918), who settled in Lansdowne, Delaware County, Pennsylvania.
(Not in Darlow & Moule).
This is an oversized or heavy book, which requires additional postage for international delivery outside the US.