Aristotelis Opera Omnia quae Extant Graece & Latine (4 Folio Volumes)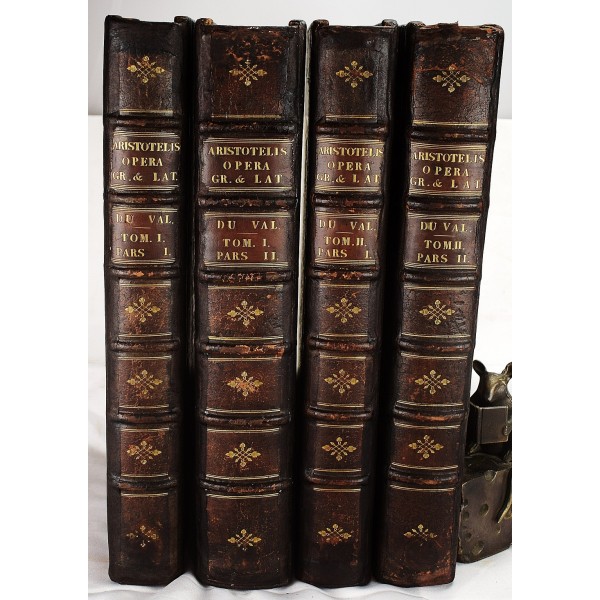 Aristotelis Opera Omnia quae Extant Graece & Latine (4 Folio Volumes)
Aristotle.; Cyriacus STROZA; Joachimus CAMERARIUS, the Elder; Guillaume Duval (Du Val)
Lutetiae Parisiorum: Typis Regiis, 1619
1st edition of Du Val's collected works of Aristotle. 2 volumes bound in 4. Folio, 40 x 26 cm. Bound in contemporary Cambridge-style paneled, calf. Rebacked, and restored bindings. 6 raised bands. Title pages in red and black, with engraved portrait of Aristotle. Text in Greek and Latin, in parallel columns. Institutional blind stamps. Dampstaining along bottom, scattered marginal staining. First title has its margins trimmed and conserved. Collated: Tome 1, part 1: [16], 430 p.; T.1, p.2: 431-1251 p., [19]; T.2, p.1: [3], 469 p., [1]; T. 2, p.2: 470-1104 p., [16].
According to John Lempriere's Classical Dictionary, Aristotle's "treatises have been published separately; but the best edition of the works collectively, is that of Duval." p. 96. Refs: Brunet I. 459.
Subtitle: "Veterum ac recentiorum interpretum, ut Adriani Turnebi, Isaaci Casauboni, Julii Pacil studio emendatissima. Cum Kyriaci Strozae Patritii Florentini libris duobus Graecolatinis de Republica in supplementum politicorum Aristotelis. Sed nouissimae huic editioni omnium quae hactenus prodierunt, ornatissimae accessit breuis ac perpetuus in omnes Aristotelis libros commentarius, siue Synopsis Analytica Doctrinae Peripateticae, non antehac visa; in qua ut in expeditiore tabella, Aristotelis philosophia omnis, provt ea suo ordine descripta est, perspicue breuiterque indicatur, & pro rerum dignitate exponitur. ; Authore Guillelmo Du-Val Pontesiano, Philosophiae Graecae & Latinae in Parisiensi Acade"
This is an oversized or heavy book, which requires additional postage for international delivery outside the US.