American Neptune: A Quarterly Journal of Maritime History. (Volumes 13-43) (Large run of 138 issues, 1949-1993)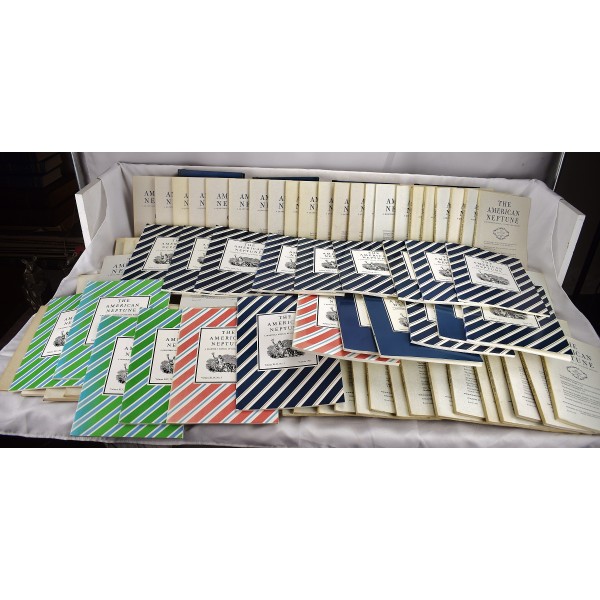 American Neptune: A Quarterly Journal of Maritime History. (Volumes 13-43) (Large run of 138 issues, 1949-1993)
American Neptune
Salem, Mass. : Peabody Museum of Salem and Essex Institute, 1953
[Nautical Reference and History] 138 issues, bound in 130 volumes. Nearly complete run of the journal from 1953-1982, also includes vol. IX, issue 4 (1949), and 20 later issues from 1984 - 1993. Volumes XIII - XLIII (lacking 3 issues; Lacking volume XXXV, no. 1; XLI, no. 3; and XLII, no. 2). Four years bound in navy cloth (1953, 1954, 1955, 1956). All other volumes in publisher's wraps. 28 cm. Some damp wrinkling, waviness to a few of the issues.
About the Journal: "From 1941 to 2002, The American Neptune was America's premier journal of maritime history and arts. The journal's articles, written with clarity and scholarly substance, are of interest to all who enjoy accounts of ships, the seas, and those who've sailed them - for mercantile gain, their nation's interest, or the love of voyaging and exploration. They cover a wide range of subjects (art and artifacts, people, events), geographical areas (American and international) and time periods (prehistory through modern day) and were written for scholars, professionals and enthusiasts. The journal, founded by a group that included Samuel Eliot Morison and Walter Muir Whitehill, was issued as a quarterly (Winter, Spring, Summer, Fall)." - Phillips Collection, Peabody Essex Museum.
Most of the volumes are from the library of Thomas A. Stevens. Mr. Stevens was a writer and historian, and an authority on Connecticut River commerce and transportation.
This is an oversized or heavy book, which requires additional postage for international delivery outside the US.