Aaron Sopher (Signed, with a great deal of related ephemera)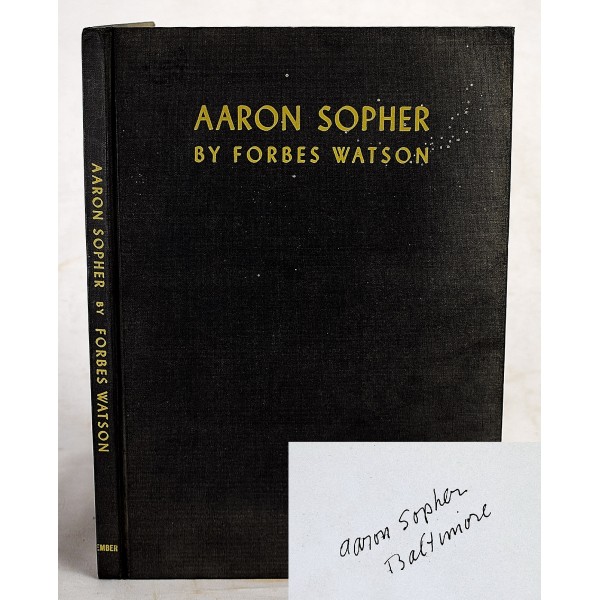 Aaron Sopher (Signed, with a great deal of related ephemera)
Watson, Forbes; Aaron Sopher
Theodore Ember, 1940
[Autographed by the Artist, Aaron Sopher] Includes a plethora of related ephemera about Aaron Sopher. Including copies of comics. Large format photographs. Multiple copies of original City Hall Galleries, In Memorium, for Sopher. Original news articles. Really a wealth of related information!.
3 preliminary leaves, 11-69, [1] pages frontispiece, illustrations 28 cm. Hardcover. No dust jacket. Good binding and cover. Clean, unmarked pages.
"Aaron Sopher (1905-1972) was an American illustrator who studied drawing at the Maryland Institute College of Art. After leaving MICA, Sopher made a living working on free-lance illustration jobs for the Baltimore Sun, and his work was soon printed regularly within the newspaper. During a two-year residence in New York from 1929-31, his cartoons appeared in The New Yorker, as well a 1929 issue of The New Masses, a leftist publication devoted to social commentary and illustration, to which many renowned illustrator and printmaker contemporaries contributed. His illustrations convey his sense of social responsibility, support for civil rights and the interests of the laboring class. As scholar Peter Hastings Falk accounts, "it was during the Depression that Sopher seems to have fully realized that being an artist meant making a commitment to record 'the American condition' rather than merely making political jabs or seeking a laugh." Throughout his career, Sopher worked primarily in pen, ink and watercolor, and less often in etching and painting, preferring the immediacy of drawing to the more protracted process of etching and painting. He admired the work of old masters Daumier, Rembrandt, Hogarth and Goya. Sopher was also impressed by contemporaries Jose Clemente Orozco, George Grosz, Reginald Marsh and William Gropper, all of whom worked substantially in illustration and prints. Sopher sketched from direct observation, carrying pen in hand and making drawings of people passing by on the street, or interacting at exhibitions and events. His drawings are characterized by quick, deft lines that capably capture, in a minimal amount of strokes, a scene and mood among the characters he takes up as subjects." - Joseph M. Cohen Collection.