A True & Exact History of the Island of Barbados: Illustrated with a Map of the Island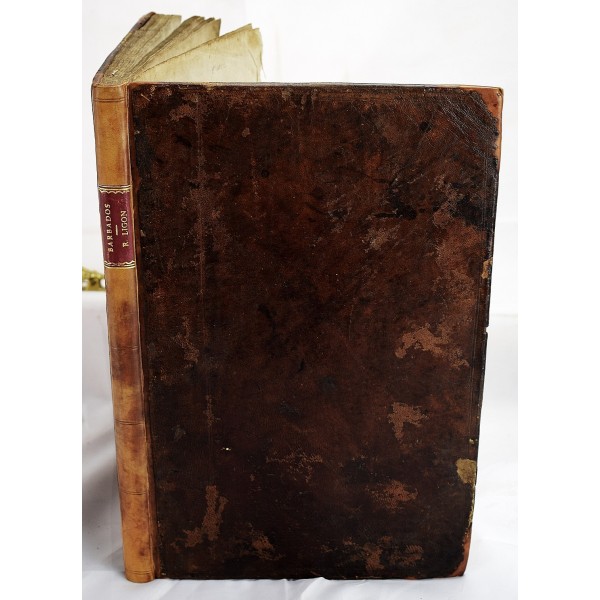 A True & Exact History of the Island of Barbados: Illustrated with a Map of the Island
Richard Ligon
London : Printed for H. Moseley, 1657
Bound in old calf, rebacked and recornered. Collated: Title, [8], 122, [3] pages, and 9 engraved plates (3 folding), folding engraved map, and folding table. Minor restoration, title edge, fold out table. Faint old dampstain to top margin, not overly conspicuous. Wing L2075; Hunt 270; Sabin 41057.
Barbados was England's first American colony to develop plantation sugar production dependent on African slave labor. As a result, Barbados was one of the wealthiest English colonies of the 17th century and played a major role in promoting the British colonial slave system. Richard Ligon lived on Barbados from 1647 to 1650. He is one the best known primary source for seventeenth-century British Caribbean social history. "In the well-known map of Barbados, published in Ligon's book, a European on horseback is depicted chasing two Maroons." This map is present in this copy (see our photos). Jerome Handler, "Escaping Slavery in a Caribbean Plantation Society: Marronage in Barbados, 1650s-1830s." New West Indian Guide/ Nieuwe West-Indische Gids 71 (1997), no: 3/4, p. 183-225.
Full title: A trve & exact history of the island of Barbados : illustrated with a mapp of the island, as also the principall trees and plants there, set forth in their due proportions and shapes, drawne out by their severall and respective scales : together with the ingenio that makes the sugar, with the plots of the severall houses, roomes, and other places, that are used in the whole process of sugar-making.