A New Survey of the West-Indies: Being a Journal of Three Thousand and Three Hundred Miles Within the Main Land of America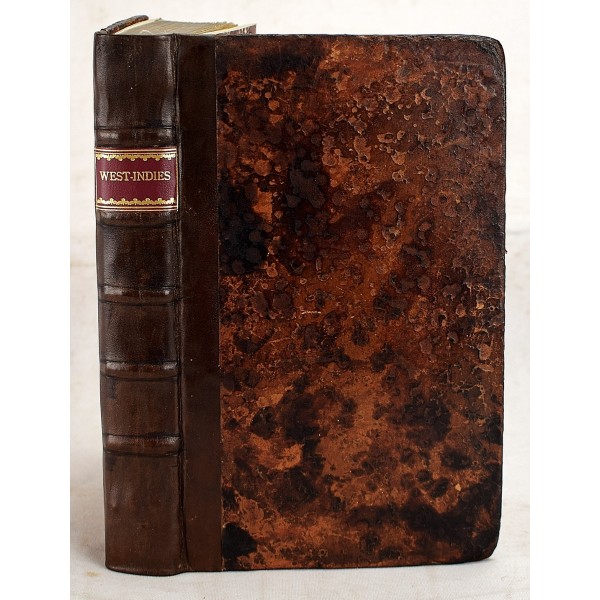 A New Survey of the West-Indies: Being a Journal of Three Thousand and Three Hundred Miles Within the Main Land of America
Thomas Gage
London : printed by M. Clark, for J. Nicolson at the Kings Arms in Little Britain and T. Newborough, at the Golden Ball in S. Paul's Church-Yard, 1699
[One of the First Descriptions of Spain's New World Possessions: An Important Early Account] Octavo, 19 x 11.5 cm. Contemporary leather binding. Rebacked, with renewed hinges. Leather worn, but restored. [8], 477, [19] p. Folding map "New Mapp of the Empire of Mexico" engraved by F. Lamb, at front. The map also depicts Florida and the Carolina coast. Tear on title page, with bottom 1/4 of the page missing. Margin of p. 1 slightly shaved. Refs: Wing (2nd ed.), G115. ESTC R17710; Palau 46481n; Sabin 26301.
Gage, an Englishman, was sent by his father to Spain in 1612 to become a priest. Interested more in traveling than religious pursuits, he joined a group of Dominicans journeying to the Philippines. The Spanish king had forbidden any Englishman from venturing to the West Indies, and so Gage was smuggled aboard the ship in a biscuit barel. En route, while stopped over in Central America, Gage deserted the journey to the Pacific and headed to Chiapa and Guatemala. He lived for twelve years with the Indians as a preacher and professor of philosophy, learning the indigenous Cacchiquel and Poconchi languages. Returning to English, he renounced Catholicism and wrote this extraordinary book. "The appearance of his 'English-American; or New Survey of the West India's,' in 1648, caused a remarkable sensation. His account of the wealth and defenceless condition of the Spanish possessions in South America excited the cupidity of the English, and it is said that Gage himself laid before Cromwell the first regular plan for mastering the Spanish territories in the New World. He was appointed chaplain to General Venables's expedition, which sailed under Venables and Penn for Hispaniola. The fleet failed at Hispaniola, but took Jamaica, where Gage died in 1656 'in the States' service.'" - DNB, Volume 20, 353-354 pp.
Subtitle: "Being a journal of three thousand and three hundred miles within the main land of America: By Tho. Gage, the only Protestant that was ever known to have travel'd those parts. Setting forth his voyage from Spain to S. John de Ulbua; and thence to Xalapa, Tlaxcalla, the City of Angels, and Mexico: with a description of that great city, as in former times, and at present. Likewise his journey thence through Guaxaca, Chiapa, Guatemala, Vera Paz, &c. with his abode XII. years about Guatemala, his wonderful conversion and calling to his native country: with his return through Nicaragua and Costa Rica, to Nicoya, Panama, Porto bello, Cartagena, and Havana. With an account of the Spanish navigation thither; their government, castles, ports, commodities, religion, priests and friers, negro's, mulatto's, mestiso's, Indians; and o their feasts and solemnities. With a grammar, or some few rudiments of the Indian tongue, called Poconchi or Pocoman."
The first edition published as: The English-American his travail by sea and land, 1648.