A General History of the Science and Practice of Music (5 volume set)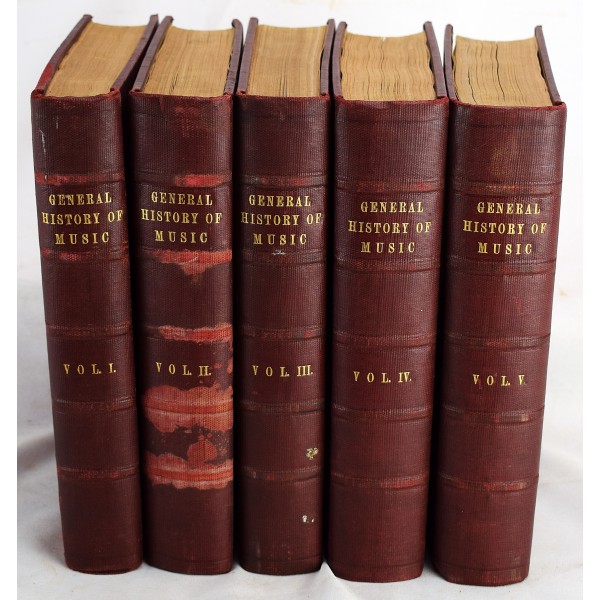 A General History of the Science and Practice of Music (5 volume set)
John Hawkins
 London : Printed for T. Payne and Son ..., MDCCLXXVI., 1776
5 volumes.  1st edition.  Quartos, 27 x 21 cm.  Bound in later burgundy cloth, with discoloration to some of the covers. Frontispiece, engraved illustrations of musical instruments, portraits of musicians, musical notation, tables, etc. LXXXIV, 465 pages; [2], 544 pages; [2], 535 pages; [2], 548 pages; [2], 482, [58] pages. Scattered toning, staining.  A few quires sprung.
John Hawkins (1719-1789) worked for 16 years to compile his history of music.  "For many years Hawkins had been accumulating material for a General History of Music from his own research in the British Museum... his own extensive collection of manuscripts... The Bodleian and college libraries of Oxford and Cambridge, information supplied by Horace Walpole...  Hawkins's contains valuable information about early 18th-century musical society in London, largely collected from survivors of the period, and emphasizes the achievement of the 16th- and 17th-century composers."  - New Grove 8:323-325.  Hawkins work was influential and later reprinted in 1853 and 1875.  
This is an oversized or heavy book, which requires additional postage for international delivery outside the US.