A Compleat History of Druggs, Written in French by Monsieur Pomet, Chief Druggist to the Present French King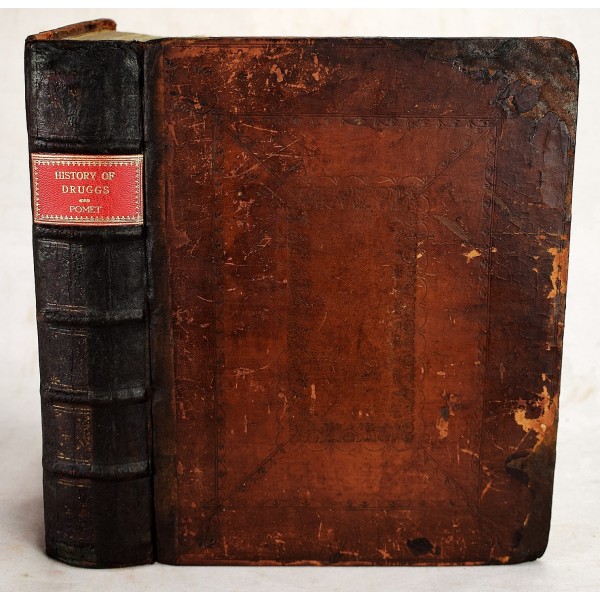 A compleat history of druggs, written in French by Monsieur Pomet, chief druggist to the present French King; to which is added what is further observable on the same subject, from Messrs. Lemery, and Tournefort, divided into three classes, vegetable, animal and mineral; with their use in physick, chymistry, pharmacy, and several other arts: illustrated with above four hundre copper cutts curiously done from the life; and an explanation of their different names, places of growth, and countries from whence they are brought; the way to know the true from the false, their virtues, &c. A work of very great use and curiosity. Done into English from the originals
Pierre Pomet
London : printed for R. Bonwicke, William Freeman, Timothy Goodwin, John Walthoe, Matthew Wotton, S. Manship, John Nicholson, Benjamin Tooke, Rich. Parker, and Ralph Smith, 1712
[Materia Medica: Illustrated Pharmacology] 2 volumes, bound as one. First English edition and translation of "Histoire generale des drogues," (a General History of Drugs) first printed in 1694. Quarto, 23 x 18.5 cm. Bound in contemporary full leather. Handsome binding, restored spine with contemporary Cambridge-style, blind-tooled calf. Titlepages in red and black. Text in two columns. Collated: V.1: ([16],224p., 67 leaves of plates; V.2: [20], 225-419, [13] p., 70-86 leaves of plates. 84 (of 86) copper engraved plates. Lacks two plates, plate 9 and plate 69 (the mummy plate.) Most plates have four engravings on each sheet. Includes an interesting reference to unicorns, with illustration. Refs: ESTC T113762; Garrison Morton 1827.1; Wellcome IV, 411; Hunt 428; Pritzel 7258.
Pomet was chief pharmacist to Louis XIV and purveyor of medicinal remedies from distant lands, including sugar and coffee. His text was translated into English in 1712 and widely circulated. (Benjamin Franklin noted the presence of a copy in Philadelphia.) Pomet's work was of particular interest because of the large number of engravings illustrating the work and the international scope. The work includes a catalogue of seeds brought back from America, and descriptions and plates of sugar-refining, indigo & tobacco preparation, bee-keeping, silk-manufacture, and whaling. Exotic luxuries and relatively recent commodities, such as chocolate are described in depth.
Armorial bookplate of Charles Vere Dashwood, Esq. Black and white herald motif with floral decoration around herald. Charles Dashwood (of Stanford, 1745 - 1821).