The Monuments of Nineveh (Two Folio Atlas Volumes)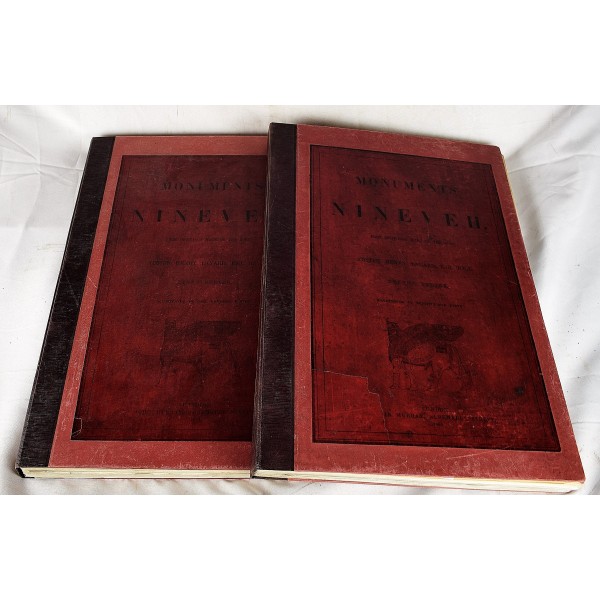 The Monuments of Nineveh (Two Folio Atlas Volumes)
Austen Henry Layard
London: John Murray, 1849
[The Assyrian Empire: As Depicted by Austen Layard] 2 volumes. Folios, 56.5 x 38.5 cm. Series I & II. London: John Murray, 1849-1853. Straight-grained, red morocco spines. Original cloth covers trimmed and mounted on red boards. 158 (of 172) lithographic plates, including chromolithographic plates, (additional partly colored and tinted plates), mostly on India paper. Light foxing, mostly to the First Series. Small blind stamp on titles. A few scattered blind stamps. Lacking the following plates, Series I: 2, 3, 71, 86, 87, 92, 94 ; Series II: 1, 2, 3, 5, 6, 7, 51.
The plates illustrate findings from Layard's first expedition to Nineveh, 1845-1847. Layard drew the ruins of Nimrud and the Kuyunjik (near Mosul) in present day Iraq. His expedition uncovered the palace of Sennacherib and the Library of Ashurbanipal. The fruits of Layard's expedition form the greater part of the collection of Assyrian antiquities in the British Museum. Refs: Atabey 686 & 688; not in Blackmer. Subtitle of v.1: From Drawings Made on the Spot; v. 2: including bas-reliefs from the palace of Sennacherib and bronzes from the ruins of Nimroud.
This is an oversized or heavy book, which requires additional postage for international delivery outside the US.