The Intimate Papers of Colonel House: Arranged as a Narrative (2 Volume Set)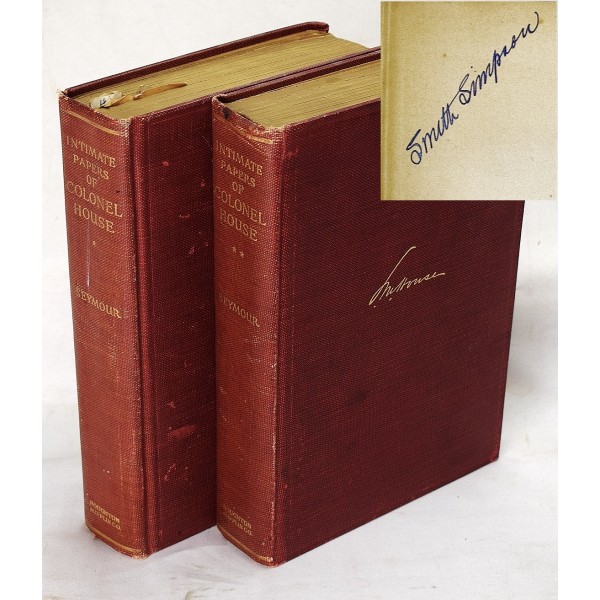 The Intimate Papers of Colonel House: Arranged as a Narrative (2 Volume Set)
Seymour, Charles
Houghton Mifflin Company, 1926
Association copy, Robert Lansing, SOS. 2 volume set. Bound in publisher's cloth. Hardcover. No dust jacket. Good binding and cover. Some underlining/notes from previous owners. Vol. 1 Behind the political curtain 1912 - 1915. Vol. 2 From neutrality to war 1915 - 1917.
Provenance: Originally owned by Robert Lansing, United States Secretary of State under President Woodrow Wilson from 1915 to 1920. The set contains many hand written notes and underlining from Lansing. Ex: "I will someday tell the true story why Bernstroff backed down, House never knew," p. 33. Many of Lansing's notes are critical, but insightful and unique. They offer an intimate view of the foreign policy concerns of the United States in World War I.
Later from the library of Robert Smith Simpson. Simpson was a noted career foreign service officer in the US State Department and professor at the Edward Walsh school of Foreign Service at Georgetown University.
Lansing's other papers are currently at held at Princeton University's Seeley G. Mudd Manuscript Library.