The Holy Bible, Containing the Old Testament and the New; with the Apocrypha: Translated Out of the Original Tongues, with Annotations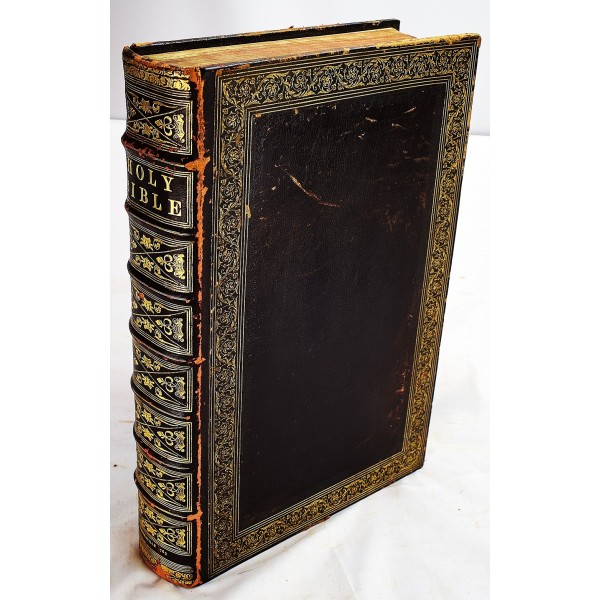 The Holy Bible, Containing the Old Testament and the New; with the Apocrypha: Translated Out of the Original Tongues, with Annotations
John Baskerville; (King James Version)
John Baskerville, 1763
1st Baskerville edition. Massive folio, 50 cm. One of 1250 copies, York variant. Bound in full morocco leather (early 19th century). Gilt stamping, gilt border. Rubbing, wear to extremities. Solid binding. All edges red. Illustrated with full page engravings. [1146] pp. Crease on title page.
Refs: Gaskell, 26; Darlow and Moule, 1146; ESTC T93106; Huntington Library, Great Books in Great Editions, 6. "Always regarded as Baskerville's magnum opus, and his most magnificent as well as his most characteristic specimen" - Reed, A History of the Old English Letter Foundries, p. 279. "One of the most beautifully printed books in the world." - Dibden. "Aesthetically, the highest point in English Bible printing so far was John Baskerville's folio printed at Cambridge in 1763... The Bible uses his types, paper and ink, and shows his characteristic 'machine-made' finish: very smooth and even in color and impression, with glossy black ink on smooth paper. The design is traditional, but the quality of material and workmanship is so high, and the conventions are so delicately modified and consistently applied that the result is extremely impressive" (Cambridge History of the Bible, 464).
This is an oversized or heavy book, which requires additional postage for international delivery outside the US.