The Complete Works of Henry Fielding (16 volumes, Fine binding)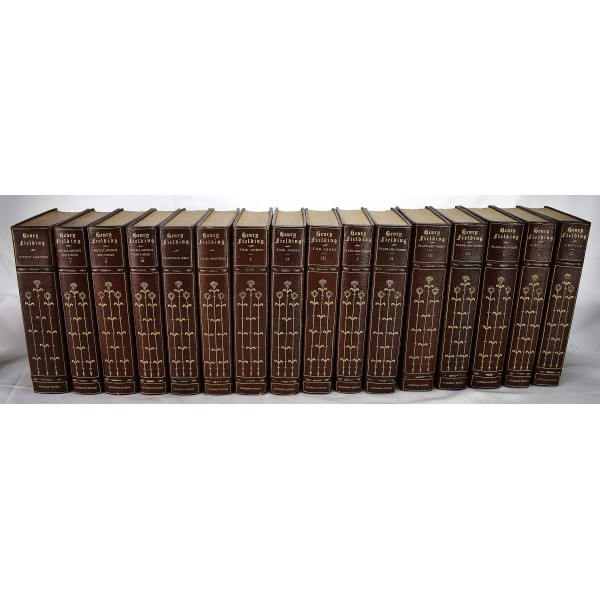 The Complete Works of Henry Fielding (16 volumes, Fine binding)
Henry Fielding; William Ernest Henley
Croscup & Sterling co, 1902
[Fine binding, Autograph edition] 16 volume set. Limited edition of only 75, numbered and registered copies. Bound in contemporary, full green, crushed levant, moroccan leather. Floral nouveau gilt pattern and decoration. Red morocco onlays. Printed on hand-made Holland paper. Some of the frontispieces hand colored and signed. Gilt ruled morocco doublures. Silk moire end pages. Top edges gilt. Illustrations and ornamental titles. Spines sunned. Internally clean and unmarked with some limited foxing to end sheets. One volume signed by colorist.
Contents: v. 1. The history of the adventures of Joseph Andrews and his friend Mr. Abraham Adams.--v. 2. The history of the life of the late Mr. Jonathan Wild and A journey from this world to the next, &c.--v. 3-5. The history of Tom Jones, a foundling.--v. 6-7. Amelia.--v. 8-12. Plays and poems.--v. 13. Legal writings.--v. 14-16. Miscellaneous writings.
This is an oversized or heavy book, which requires additional postage for international delivery outside the US.