The Art of Judging Music (Signed)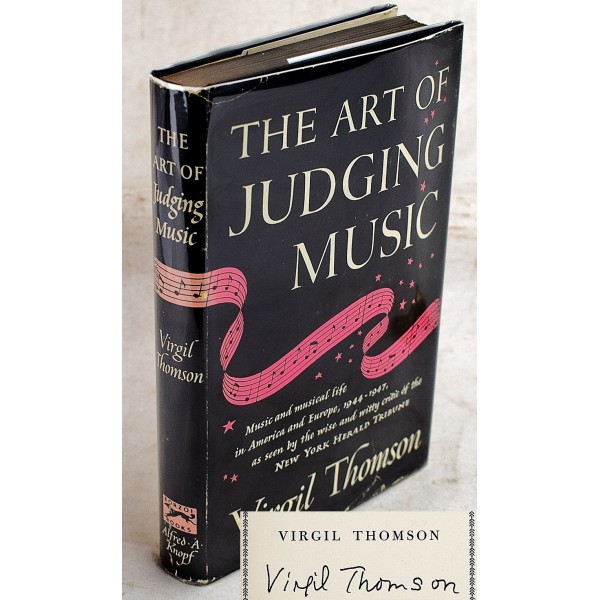 The Art of Judging Music (Signed)
Thomson, Virgil.
Alfred A. Knopf, 1948
Flat signed by Virgil Thomson on title page. Hardcover and dust jacket. Tears to jacket with loss. Dust jacket in protective mylar cover. Good binding and cover. Shelf wear. *Autographed by author.*
Virgil Thomson (1896-1989) was a many-faceted American composer of great originality and a music critic of singular brilliance. Utilizing a musical style marked by sharp wit and overt playfulness, he composed in almost every genre of music, producing a highly original body of work rooted in American speech rhythms and hymnbook harmony. His music was influenced by Satie's ideals of clarity, simplicity, irony, and humor. In 1927 he journeyed to Spain to collaborate with Gertrude Stein on their opera, Four Saints in Three Acts, which they completed in 1928. The opera received its premiere in Hartford in 1934 with an all-black cast in an extraordinary visual production with choreography by Frederick Ashton. Thomson created scores to The Plow That Broke the Plains and The River (films by Pare Lorentz), and Louisiana Story (film by Robert Flaherty) during 1936 and 1937. During the 1930's and beyond, he also produced ballet scores, incidental music for the theater, and musical portraits, a genre in which he created more than 140 works. Thomson was the first composer to write the portrait in the subject's presence, as a painter would do, and indeed as Gertrude Stein had produced her literary portraits. Revised later very seldom, a portrait was a spontaneous, intuitive act for Thomson. In addition to the Pulitzer Prize, his many honors and awards included a Brandeis Award, the gold medal for music from the American Academy of Arts and Letters, the National Book Circle Award, the Kennedy Center Honors, and 20 honorary doctorates.