Picturesque Sketches in Spain Taken During the Years 1832 & 1833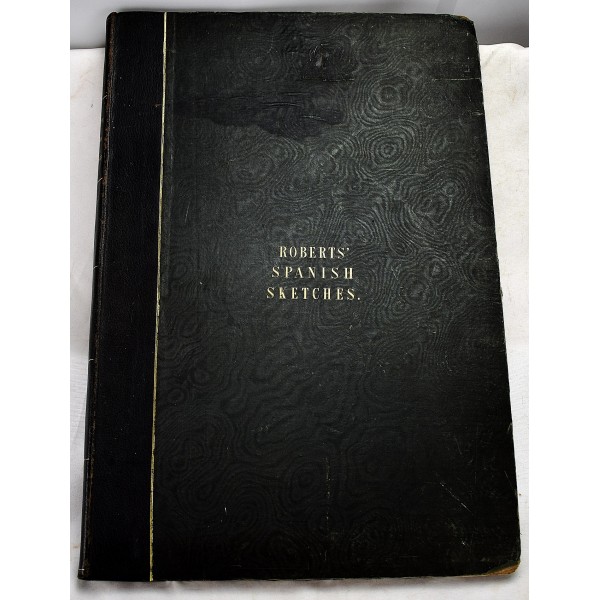 Picturesque Sketches in Spain Taken During the Years 1832 & 1833
David Roberts
London : Hodgson & Graves, 1837
First edition. Large folio (21.5 x 14.5 inches; 55 x 37 cm). Bound in publisher's green moire cloth. Rebacked, with later morocco spine. Corners bumped, worn. Collated: Lithographed title, lithographed dedication & plate list, 25 tinted lithographic plates, ad leaf at end. Generally clean internally, except the last plate has a stain at the bottom corner margin.
David Roberts' first published set of views. According to Abbey, John Ruskin describes Roberts thus: "He was like a kind of grey mirror, he gave the greatness and richness of things, and such height and space, and standing of wall and rock, as one saw to be true; and with unwearied industry, both in Egypt and Spain... The minute knowledge and acute sensation throw us back into ourselves; haunting us to the examination of points and enjoyment of moments; but one imagined serenely and joyfully, from the old drawings, the splendour of the aisles of Seville or the strength of the towers of Granada...". Abbey Travel 152.
Book plates of T.H. Guest; and Ralph Roys, an anthropologist specializing in Mexico, showing a Mayan Pyramid in frame. <br> This is an oversized or heavy book, which requires additional postage for international delivery outside the US.