Opera Quae Exstant Omnia: a Lusto Lipsio Emendata et Scholiis Illustrata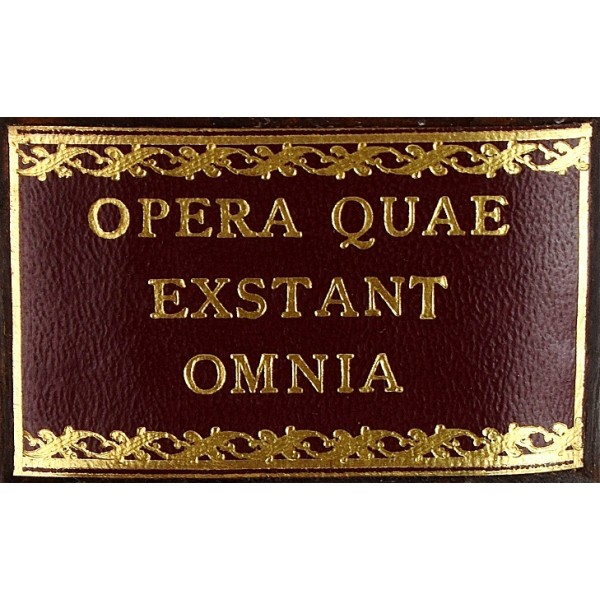 Opera Quae Exstant Omnia: a Lusto Lipsio Emendata et Scholiis Illustrata
Lucius Annaeus Seneca; Justus Lipsius
Antverpiae, ex officina Plantiniana Balthasaris Moreti, 1652
Folio. Last and best edition of the Lipsius editions by the Plantin Press. [16], xxxvi, 911 pp.; engraved title; 3 plates by C. Galle after Rubens. Contemporary mottled calf, rebacked in modern leather. 6 raised bands, red leather spine label, page ends washed red, marbled endpapers. Wear to edges. Minor spotting to pages.
Lucius Annaeus Seneca was a Roman Stoic philosopher, statesman, and dramatist of the Silver Age of Latin literature. The works attributed to Seneca include a dozen philosophical essays, one hundred and twenty-four letters dealing with moral issues, nine tragedies. Seneca generally employed a pointed rhetorical style. His writings expose traditional themes of Stoic philosophy. He emphasized practical steps by which the reader might confront life's problems. In particular, he considered it important to confront one's own mortality. The discussion of how to approach death dominates many of his letters. Refs: LC; Bibliotheca Belgica, 1st Series, Vol 21, p. S262; Schweiger 2,902; Brunet V, 276/77; Dibdin II, 397 ; Moss II, 578; Fabricius-Ernesti II, 115; Ebert 20860; Spoelder 642, Middelburg 4).
This is an oversized or heavy book, that requires additional postage for international delivery outside the US.