Newton D. Baker: America at War (Signed): Based on the Personal Papers of the Secretary of War in the World War, his Correspondence with the President and ... Board, and Other First-hand Material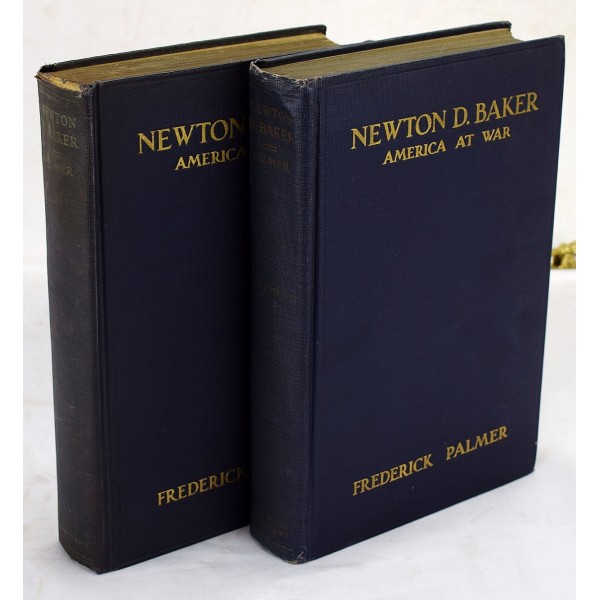 Newton D. Baker: America at War (Signed): Based on the Personal Papers of the Secretary of War in the World War, his Correspondence with the President and ... Board, and Other First-hand Material
Palmer, Frederick
Dodd, Mead, 1931
[Association Copy] Signed by Newton Baker, with three pieces of related ephemera. Includes an original photograph of Secretary of War, Newton Baker, standing next to Major General William P. McCain (Grandfather Sen. John McCain), signed by Baker. Also included is a signed letter from Sec. Baker. Inscribed by Newton Baker to Bert McCulloch on title page. Finally, a letter to Bert McCulloch from Spencer W. Reeder. Bound in publisher's blue cloth. Gilt lettering. Hardcover. Good binding and cover. Scattered underlining and markings to v. 2. Fraying to head of spine. 2 volume set; illustrations, facsimiles, maps, portraits ; 24 cm.
Newton Diehl Baker Jr. (1871–1937) was an American politician, lawyer, and geologist. He served as a mayor of Cleveland, Ohio (1912-1915) and as Secretary of War (1916-1921) during World War I. He selected General Pershing to command the AEF. He would be nominated as a candidate for President in 1932, but would eventually lose to Franklin D. Roosevelt.
Frederick Palmer (1873-1958) was an American writer and journalist. In his 50 years as a war correspondent he covered the Greco-Turkish War, the Philippine-American War, the Boxer Rebellion, and the Balkan War. After his arrest in Mexico while covering the Tampico Affair, he was persuaded by General Pershing to take press accreditation for the AEF. He would achieve the rank of Colonel, and would become the first war correspondent to earn the US Army's Distinguished Service Medal. Between World War I and World War II, Palmer would write 31 books, including "Our Greatest Battle". In 1935 he was awarded an honorary doctorate from Princeton University.
This is an oversized or heavy book, which requires additional postage for international delivery outside the US.