Narrative of the Expedition of an American Squadron to the China Seas and Japan Performed in the Years 1852, 1853, and 1854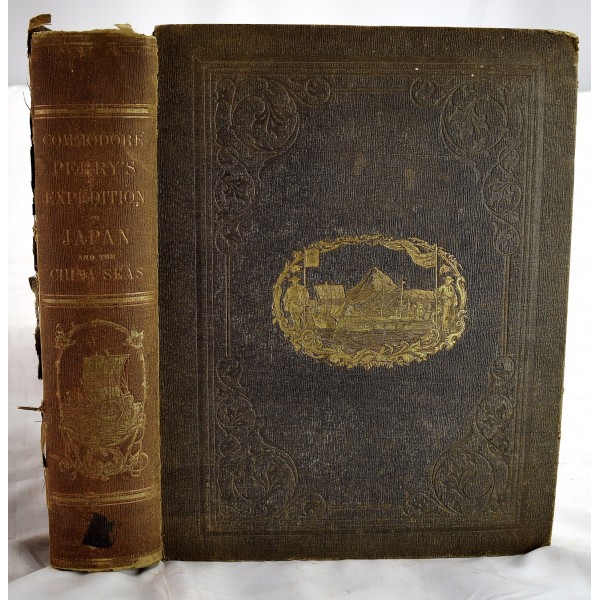 Narrative of the Expedition of an American Squadron to the China Seas and Japan Performed in the Years 1852, 1853, and 1854
PERRY, M.C., Commodore & HAWKS, Francis L.
New York : D. Appleton, 1857
Quarto. Single volume edition. Original black cloth, gilt vignette to spine and front board. Gift inscription from John Weir Perry, great grand-nephew of Admiral Perry, on second blank. Includes the suppressed bathing scene plate, "Public Bath at Simoda" on page 408. xviii,537 pp. 2 color and 88 tinted lithographic plates. Several maps, including fold-out maps. Fading to spine, minor chipping to edges of boards. Minor toning, bathing scene plate has soiling along upper margins.
"In March, 1852 Commander Perry was appointed head of this naval expedition to induce the Japanese government to establish diplomatic relations with the United States. In the following year the Japanese were finally forced to accept a treaty demanding better treatment of shipwrecked seamen and which allowed American ships to dock at two Japanese ports to purchase fuel and supplies. "The most important result, however, was that the visit contributed to the collapse of the feudal regime and to the modernization of Japan" - Hill. Hill, pp. 471-172 (for First Edition); McGill/Wood, p. 517; Sabin 30958.