Monumentos del Arte Mexicano Antiguo, Ornamentacion, Mitologia, Tributos y Monumentos (5 volume set)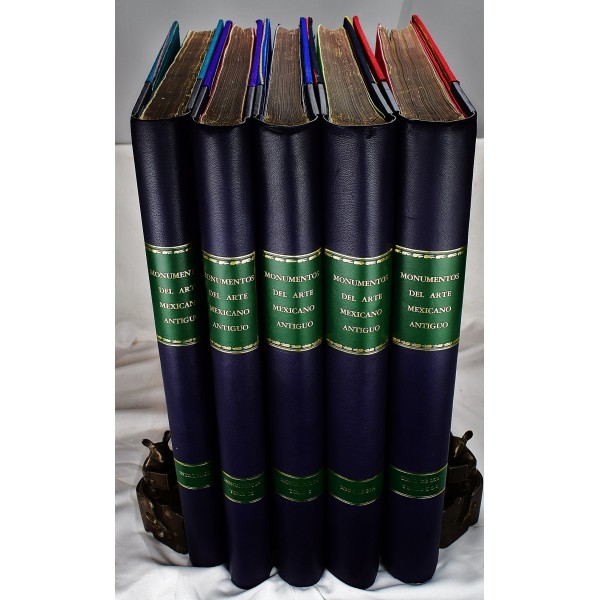 Monumentos del Arte Mexicano Antiguo, Ornamentacion, Mitologia, Tributos y Monumentos (5 volume set)
Penafiel, Antonio
A. Asher, 1890
5 volume grand folio set (1 text volume and 4 atlas plate volumes).  42 x 58 cm. Signed by Antonio Penafiel, the author.  Limited edition, no. 255 of 500.  318 plates, 176 are hand-colored, some folding.  Mexican binding.  Bound in fine modern leather, over hand-made Aztec-textured boards. (Initially the set was published as a text volume and two portfolio boxes of laminas, i.e. 3 volumes, but the heavy plates tended to damage the slip boxes and so the 3 have been bound in 5 volumes.)   Text in Spanish, French, and English. Espanol, 130 pp.  Frances, 108 pp. English, 109 pp. (Monuments de l'art mexicain ancien; Monuments of ancient Mexican art).  Library perforated stamps on title pages, and on plate pages (doesn't touch actual plates). Library stamps on preliminary leaves. 
Atlas Contents: Plates: 1-40. Ornato; 41-79. Vasos; 80-108. Mitologia; 109-132. Metales, utensilios, urnas y sepulcros; 133-169. Estatuas, tula; 170-211. Xochicalco; 212-227. Mitla; 228-259. Tributos (Libro de los tributos, reproduccion calcada en el manuscrito original de papel maguey que existe en el Museo Nacional, con el siguiente titulo, Tributos que pagaban algunos pueblos de Mexico al emperador Moctezuma; 260-288. Codice zapoteco reproduccion de la copia que existe en la Biblioteca del Museo Nacional, por el Sr. Domingo Carral ; dibujos cotejados por el Dr. Antonio Penafiel; 289-317. Proyecto para el edificio mexicano en la exposicion de París de 1889. Otro monumentos. Suplemento. 
Palau 21791. An uncommon set. Penafiel was tasked by President Porfirio Diaz to create this work.  Penafiel describes his intentions as, "to rescue from oblivion the precious relics of the ancient history of our country, and in the hope of preserving a national interest in all the manifestations of Mexican Art." - p. 12. The plate volumes include Penafiel's designs for the Aztec Palace for the 1899 World's Fair in Paris.
International buyers please contact us for a shipping quote.  This is an oversized and heavy set, which requires additional postage for international delivery outside the US.