Memoires concernant l'histoire, les sciences, les arts, les moeurs, les usages, &c. des chinois (16 vol. set)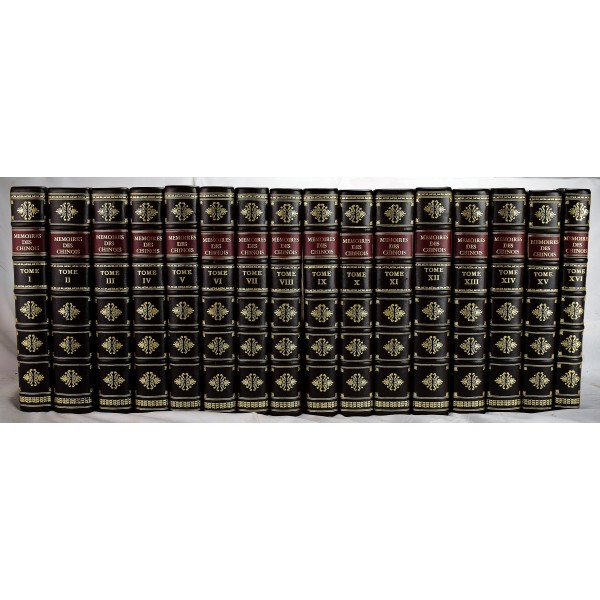 Memoires concernant l'histoire, les sciences, les arts, les moeurs, les usages, &c. des chinois (16 volume set)
Joseph Marie Amiot; François Bourgeois; Pierre Martial Cibot; Aloys Kao; Aloys de Poirot; Charles Batteux; Brequigny, M. de; Antoine Isaac Silvestre de Sacy, Baron; Antoine Gaubil
A Paris : Chez Nyon, Libraire, 1776-91.
16 volume set.  Published 1776-1791, also includes appendix volume published in by Treuttel and Wurtz, 1814.    Bound in contemporary French mottled calf.  25 x 20 cm.  All edges stained red. 153 plates and tables.   Clean, unmarked pages.  Marbled end pages. Blind stamp on title page.
Memoires concernat les Chinois was an important source for introducing China to Europeans and the foundation of French Sinology.  It collected the reports of French and Chinese missionaries in Beijing, "considered at the time the chief source of information in Europe regarding China and its people ... Among the monographs, the most interesting are on language and literature, warfare and philosophy, including a complete life of Confucius.  In addition, there are studies on natural history, science, architecture and agriculture, translations of Chinese poetry and biographical sketches of famous Chinese. This is undoubtedly the best work that the Jesuits have published on China" - Western Travellers in China.  
  Jean Joseph Marie Amiot, the principle author, was in China from 1740 on, and was a confidante of the Emperor Quianlong.   Significantly, the work helped introduce the philosophy of Confucius to the west (volume 12 is the most complete work on the life of Confucius published up to that point in Europe) and also contained 18 pictures of Confucius.  Amiot drew the pictures of Confucius based on Ming-era icons, modified to reflect contemporary western Christian religious iconography.  (See Chao Ying.)   The work includes sections on many aspects of Chinese life including music, warfare, etc.  Volume 7 is a reprint of Amiot's Art militaire des Chinois (published in 1772), the first translation into a European language of the Sun Tzu's Art of War.   Refs: Brunet 3, 1596; Cordier, Sinica I, 54-55; Lust 96; Western Travellers in China 44.  Chao Ying, Lee. "Integration Of Foreign Culture With Local Culture: The Icons Of Confucius In Memoires Concernant Les Chinois (1776-91) In France." Sino-Christian Studies 4.(2007): 109-13 
  Provenance: Explorers Club (NYC) book plate on front pastedown. Signed on book plate by James B. Ford. Ford was the President of the Club, the Club's library is named after him.