Les vies des hommes illustres grecs & romains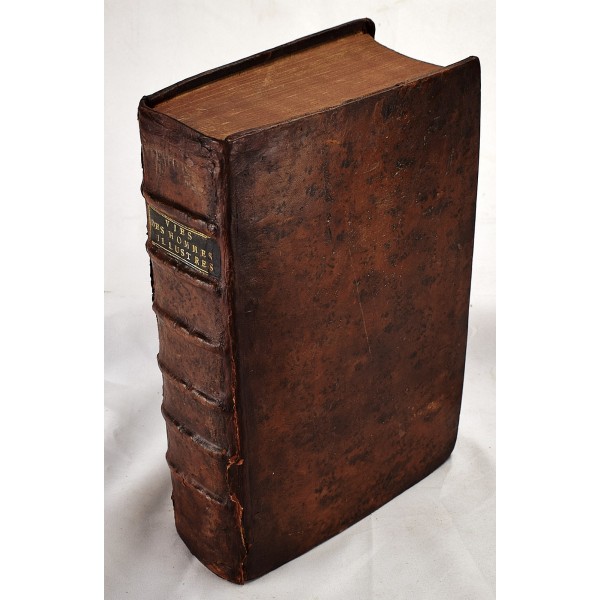 Les vies des hommes illustres grecs & romains
Plutarch; Jacques Amyot; Plutarque
Paris : Michel de Vascosan, 1559
[Editio princeps of Amyot's translation Plutarch's Lives of the Noble Greeks and Romans.] Thick folio, 36.3 x 25 x 4.4 cm. Bound in contemporary mottled calf. Some restoration work to joints. All edges red. Collated: [8], 734, [26] leaves. Historiated initials, printers devices. First few leaves have marginal worming. Early signature of Doni Le Royer (sp?).
First edition of Plutarch's Lives by the scholar Jacques Amyot (1513-1593). Amyot was the teacher of Charles IX and Henri II, and famous as a Greek translator. - Mortimer. It is one of the masterpieces of French Renaissance prose - Montaigne called it "nostre breviaire." Amyot's French version was translated into English by Sir Thomas North (1535-1604) and soon became "Shakespeare's Plutarch", a major source for his Roman and Greek plays (Julius Caesar, Antony and Cleopatra, Coriolanus, Timon of Athens).
Refs. Pettegree FB 44084. Cioranescu 2484. STCFrench (BL London) 359. Adams P1620. Hoffmann III, p. 384. [Parallel Lives]
This is an oversized or heavy book, which requires additional postage for international delivery outside the US.