Lands of the Slave and the Free: or, Cuba, the United States, and Canada. 2 volume set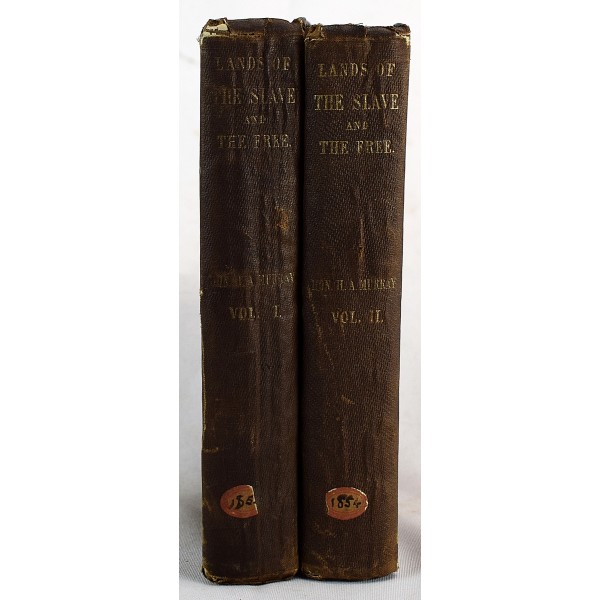 Lands of the Slave and the Free: or, Cuba, the United States, and Canada. 2 volume set
Henry A Murray
London : John W. Parker and Son, West Strand, 1855
Two octavo volumes, complete. Original brown pebbled cloth, gilt lettering. 21p, 452 pp 4 page publishers catalogue. 479 pp. 4 p. publishers catalogue. 2 vignette titles, 12 plates. Lacking folding map in Volume I of the United States. Colored lithograph of Longworth's Vineyard, Ohio bound in Volume I not called for. Rubbing, bumping to corners. Fading to spine gilt. Scattering foxing, mostly to plates.
More of a travelogue than a treatise on slavery, with somewhat pompous but nonetheless interesting descriptions of American life, culture, and modes of transport. Murray traveled through New York State before heading west through Philadelphia, Pittsburgh, Cincinnati, Louisville, and St. Louis to New Orleans. He encountered a group of Mormons on the Mississippi and includes an appendix on "The Mormon Creed." From New Orleans he traveled to Havana, and from there back to the east coast of the United States, stopping in Baltimore and Richmond before heading north to Canada (Quebec, Toronto). About 60 pages of Volume II treat the problem of slavery. Flake-Draper 5677; Sabin 51497.
This is an oversized or heavy book, which requires additional postage for international delivery outside the US. SubjectsSlavery -- United States. | United States -- Description and travel. | Cuba -- Description and travel. | Canada -- Description and travel.