Georgius Agricola De Re Metallica : Translated From the First Latin Edition of 1556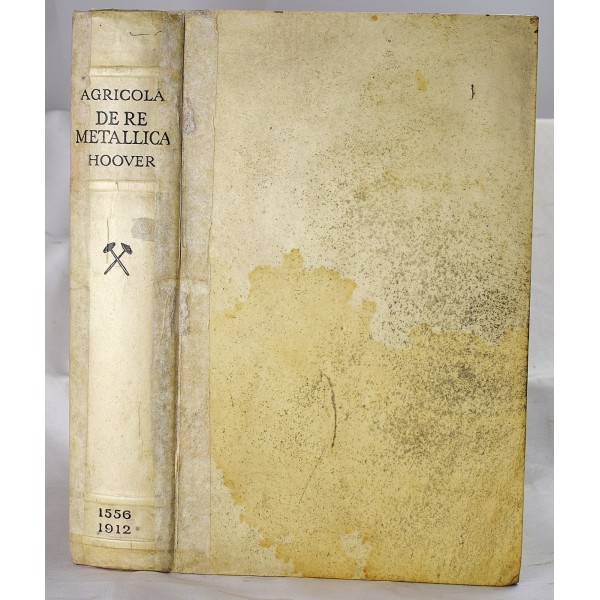 Georgius Agricola De Re Metallica : Translated From the First Latin Edition of 1556
(Georgius Agricola) HOOVER, Herbert Clark and Lou Henry Hoover (Translators).
Mining Magazine, 1912
Bound in publisher's vellum, with black spine lettering. Hinges restored. Soiling / staining to cover. Limited edition of 3000 copies printed by the Mining Magazine in 1912. xxxi, 640 pages : illustrations ; 35 cm. Hardcover. Good binding and cover. Hugo Reinbold's stamp and inscription on end page. Biographical introduction, annotations and appendices upon the development of mining methods, metallurgical processes, geology, mineralogy & mining law from the earliest times to the 16th century. This volume is the 1st English translation of the De Re Metallica, privately published by subscription. It was translated by future President Herbert Hoover, a mining engineer, and his wife, Lou Henry Hoover, a geologist and classical scholar. The contents of the book are separated into 12 books: Book I: Arguments for and against this art; Book II: The miner and a discourse on the finding of veins; Book III: Veins and stringers and seams in the rocks; Book IV: Delimiting veins and the functions of mining officials; Book V: The digging of ore and the surveyor's art; Book VI: The miners' tools and machines; Book VII: On the assaying of ore; Book VIII: Roasting, crushing and washing ore. Book IX: Methods of smelting ores; Book X: Separating silver from gold and lead from gold or silver; Book XI: Separating silver from copper; Book XII: Manufacturing salt, soda, alum, vitriol, sulphur, bitumen, and glass.