Essays in Anglo-Saxon Law (President Daniel Coit Gilman's Copy: JOHNS HOPKINS UNIVERSITY)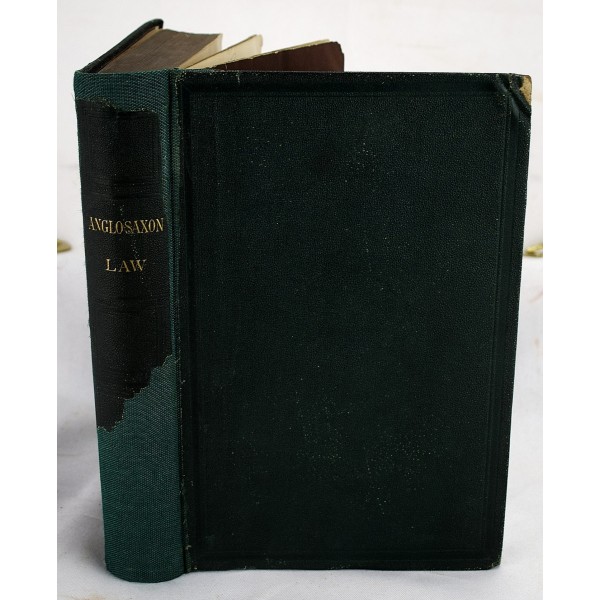 Essays in Anglo-Saxon Law (President Daniel Coit Gilman's Copy: JOHNS HOPKINS UNIVERSITY)
Adams, Henry; H. Cabot Lodge; Ernest Young; J. Laurence Laughlin; Daniel Coit Gilman
Boston: Little, Brown, 1876
[Daniel Coit Gilman's copy, with his name hand written on the title.] Additional provenance: Presentation Johns Hopkins book plate from President D.C. Gilman on front paste down. Additional Gilman ownership inscription on copyright page. (Note: JHU deaccessioned this copy in 1962.) First edition, 1876 printing. Bound in publisher's green cloth. Hardcover. Rebacked. xii, 392 pages, 23 cm. Contents: The Anglo-Saxon courts of law / by Henry Adams; The Anglo-Saxon land-law / by H. Cabot Lodge; The Anglo-Saxon family law / by Ernest Young; The Anglo-Saxon legal procedure / by J. Laurence Laughlin; Appendix : select cases in Anglo-Saxon law.
Daniel Coit Gilman (1831-1908) was an American academic and educator. Gilman was key in founding the Sheffield Scientific School at Yale College. He would then serve as the second president of University of California, Berkeley, the first president of John Hopkins University, and as founding president of the Carnegie Institution.
"Two factors in the history of American graduate education in the last quarter of the nineteenth century are indisputable. One is the tremendous growth of American graduate education in the period defined; the second factor is the constantly reiterated acknowledgment of the influence of Gilman in the promotion of graduate studies in America ... Gilman's first contribution to American graduate education was the Johns Hopkins Ph.D., which by definition contrasted the difference between undergraduate and graduate study ... By assembling the core of strong graduate faculty (with supplemental nonresident lecturers to boot), Gilman solved the problem of a new university and the problem of student migration as well. In Baltimore, the Johns Hopkins graduate student found talent enough to bring research projects to completion while Gilman's support of scholarly journals ensured that worthwhile results were disseminated" (ANB 9, pp 56-59).