Ensembles Mobiliers, Vol. 2 & 3 (2 volumes)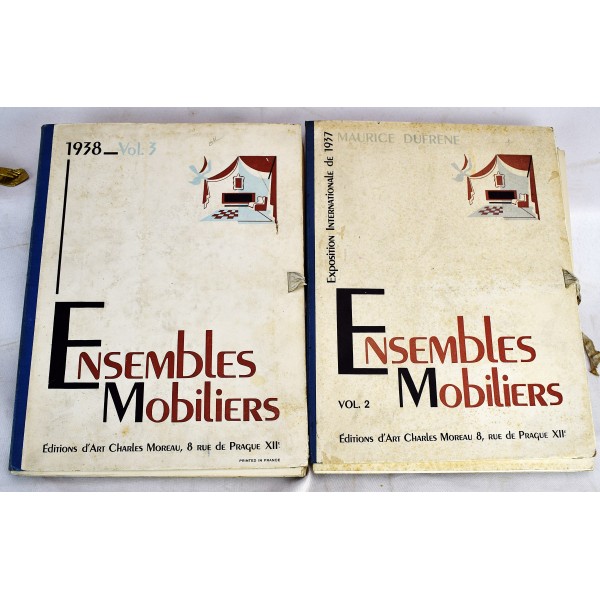 Ensembles Mobiliers, Vol. 2 & 3 (2 volumes)
Dufrene, Maurice
Editions d'Art Charles Moreau, 1937
2 volume set. Volumes 2 & 3. Collated: v. 2: 48 plates; v. 3: 48 plates. 330 x 250 mm.  Quarter-bound in publisher's blue linen over white boards.  Plates loose in portfolio as issued.  Portfolios tied at side with white ribbon.  4 pages text and list of plates.
 An important record of early 20th century Art Deco design.  Designers and decorators include: Vol. 2: Jacques Adnet, Le Bucheron, Rinck, Louis Sognot, Andre Arbus, E. R. Lamy, Jean Dunand, Jean Royere.  Vol. 3: Maurice Dufrene, Jacques Adnet, Leon et Maurice Jallot, Suzanne Guiguicon, Maxime Old, Rene Drouet, Pierre Chareau, Francis Jourdain, Louis Sognot, Maurice Barret, Jaque Klein, Renee Kinsbourg, A. Szekely, J. Revenel, Andre Arbus, Rene Drouin, Jean Pascaud, Paul Frechet.  
This is an oversized or heavy book, which requires additional postage for international delivery outside the US.