Dessins et Peintures d'Asie: Executes au cours de l'Expedition Citroen Centre-Asie; Troisieme Mission G.M. Haardt, L. Audouin-Dubreuil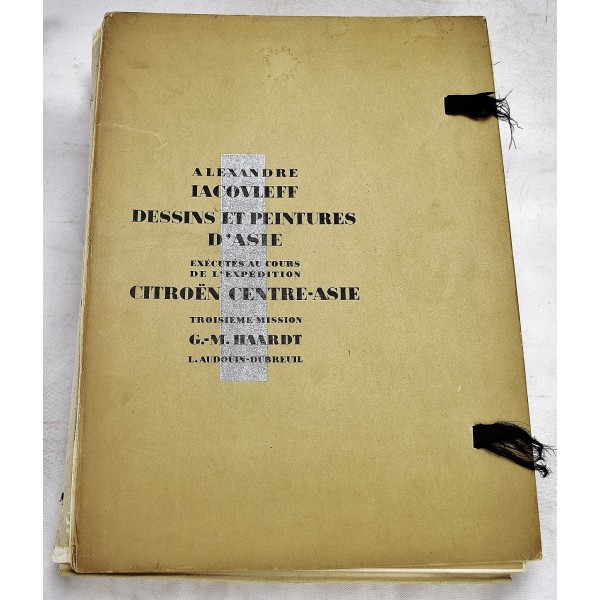 Dessins et Peintures d'Asie: Executes au cours de l'Expedition Citroen Centre-Asie; Troisieme Mission G.M. Haardt, L. Audouin-Dubreuil
Alexandre Iacovleff; Georges Marie Haardt; Louis Audouin-Dubreuil; Lucien Vogel
Paris : J. Meynial, 1934
[The Silk Road : Asia in the European Mind : An Epic Journey by automobile across the continent] Folio, 39.5 x 29 cm (15 x 11 in). Limited edition of 500. Housed in publisher's portfolio case. Portfolio lacks spine panel. Complete in two parts, text volume and 50 chromolithographic plates. Text volume in a Japanese-stab binding. Plates are loose in folder, as issued. After his work in Africa during Cirtroen's Black Cruise, Iacovleff was again chosen as the official artist by Andre Citroen to illustrate the third expedition of G.M. Haardt and L. Audouin Dubreuil. The Expedition Citroen Centre-Asie (the so-called Yellow Cruise) journeyed by automobile through Asia from April 1931 - February 1932. The exhibition started in Beirut, made it way to Syria, across the Persian Empire (present day Iran), Afghanistan, Kashmir, the Pamirs, the Himalayan Mountains, Mongolia, through the Gobi Desert and finally to Peking; a 12000 kilometer journey by car. Haardt's death in China due to pneumonia dampened the rally's triumph.
Provenance: This was the French Historian Rene Grousset's (1885-1952) personal copy. Grousset was a Central Asian specialist and author of number of books on the lands where the Haardt-Dubreuil expedition traveled.
This is an oversized or heavy book, which requires additional postage for international delivery outside the US.