Decadas da Asia, que Tratam dos Mares que Descobriram, Armadas, que Desbaratarao, Exercitos, Que Vencerao, e das Accoens Heroicas, e Facanhas Bellicas, que Obrarao os Portuguezes nas Conquistas do Oriente (3 volumes)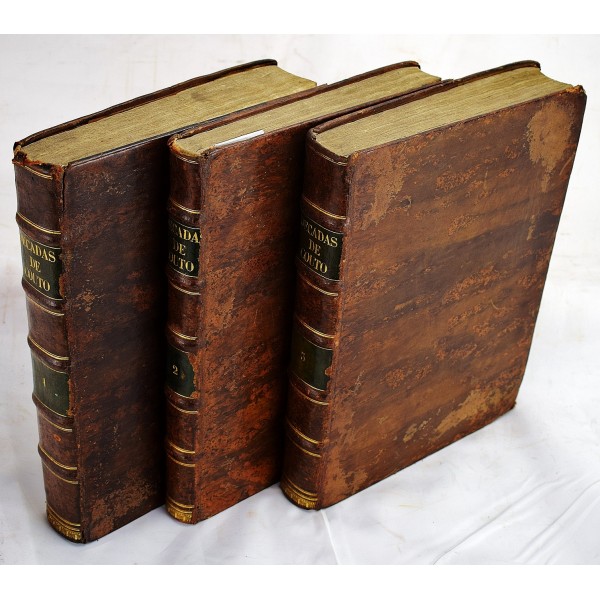 Decadas da Asia, que Tratam dos Mares que Descobriram, Armadas, que Desbaratarao, Exercitos, Que Vencerao, e das Accoens Heroicas, e Facanhas Bellicas, que Obrarao os Portuguezes nas Conquistas do Oriente (3 volumes)
Diogo do Couto; Domingos Goncalves; Joao de Barros
Lisboa Gonsalves, 1736
3 volume set. Folios, 28 cm. Bound in contemporary mottled sheep, with green moroccan leather spine labels. Marbled end pages. Minor wear to covers. Good bindings. Title in red and black. Text in two columns. After serving in the Surat campaign in 1560, Cuoto contributed to the history of Portuguese exploration of Asia, continuing Joao de Barros's work. Couto continued Barros's Decades from IV to XII. His history included a first hand account of Portuguese exploration in India (Goa). Refs: Cordier, Bibliotheca Japonica 34 and Bibliotheca Sinica 2309.
Provenance: D.E.A. Meredith (bookplates, purchased by him from Sotheby's, May 1969). Earlier bookplate of Juan Manuel Sanchez (Motto: "Semper Idem. Todo Por Aragon y Para Aragon."). Sanchez had one of the best libraries in Spain during the beginning of the 20th century.
This is an oversized or heavy book, which requires additional postage for international delivery outside the US.