Commentarii in Libros Sex Pedacii Dioscoridis de Medica Materia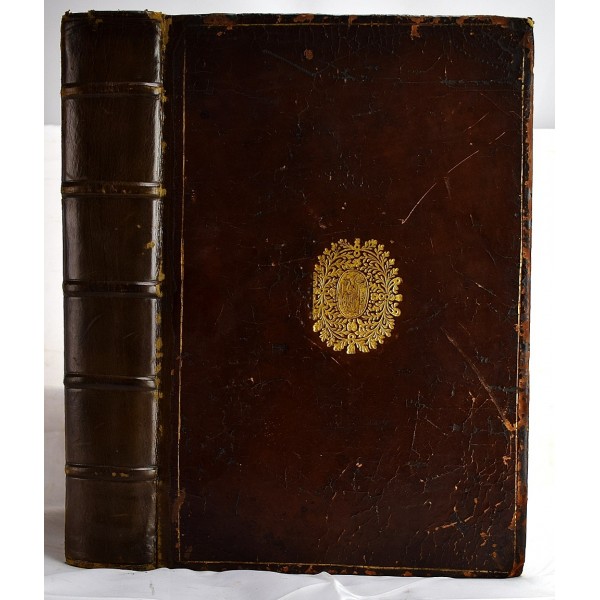 Commentarii in Libros Sex Pedacii Dioscoridis de Medica Materia
Pietro Andrea Mattioli; Dioscorides Pedanius, of Anazarbos.
Venetiis : Valgrisiana (Vincenzo Valgrisi), 1559
Folio, 32 x 21 cm. Two parts bound as one. Bound in contemporary 16th century, gilt armorial calf. Rebacked. 3rd Latin edition. [96] 776, 46 pages : approximately 700 woodcut illustrations (133 additional woodcuts from previous edition). Woodcut printer's devices. Refs: Adams D-668 (Apologia dated 1558); Nissen BBI 1305; NLM/Durling 3010.
Mattioli (1501-1577) was a Siennese doctor and naturalist. His Commentarii described more than one hundred new plants and contributed to the development of medical botany. This, his most important work, was first printed in 1544 in Italian, 1554 in Latin, French in 1561, Czech in 1562, and in German in 1563. The wood cuts in his work were accurate and standardized enough to allow for easy identification. While nominally a commentary on the work of the botanist Dioscordies, Mattioli significantly expanded the work by adding major new contributions. He relied in part on the contributions of the Turkish diplomat, Buscecq, his doctor, Quakelbeen, and the famed botanist, Luca Ghini, who founded the botanical garden in Pisa. In this work, Mattioli significantly provided the first known observation of a tomato being grown and eaten in Italy. He states that the tomato is fried in oil with salt and pepper. A description that was dutiful copied (and not doubt prepared) by a multitude of later authors. McCue, George Allen. "The History of the Use of the Tomato: An Annotated Bibliography." Annals of the Missouri Botanical Garden (Missouri Botanical Garden Press) 39, no. 4 (November 1952): 291-2.
Provenace: Kenneth K. Mackenzie, Horticultural Society of New York (bookplate and blindstamp); Robert de Belder; Ladislaus von Hoffmann (An Important Botanical Library Part II, Christie's New York, 5 June, 1997, lot 502).
This is an oversized or heavy book, which requires additional postage for international delivery outside the US.