Certain Most Godly, Fruitful, and Comfortable Letters of such True Saintes and Holy Martyrs of God, as in the Late Bloodye Persecution Here Within this Realme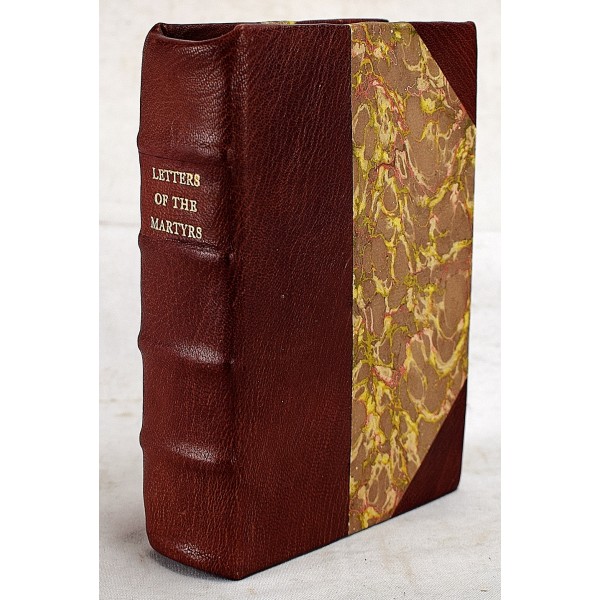 Certain most godly, fruitful, and comfortable letters of such true saintes and holy martyrs of God, as in the late bloodye persecution here within this realme, gaue their lyues for the defence of Christes holy gospel: written in the tyme of theyr affliction and cruell imprysonment.
Coverdale, Myles (Miles); John Bradford; John Careless; Thomas Cranmer; John Hooper; John Philpot; Nicholas Ridley
By John Day, dwelling ouer Aldersgate, beneath Saint Martines, 1564
[Early English 16th century printing: Collection of letters by Protestant martyrs from the reign of Queen Mary.] Small quarto. Fine binding. Bound in modern 3/4 morocco over marbled boards. Printed in black letter. Collation: [6], 46, 49-682 (of 689), [4] p. Lacking woodcut title page and verso woodcut, as well as final 4 leaves. Marginal fray / corrosion at final eight signatures (primarily the table of contents). Small chip missing from one of the sidenotes at the third leaf. Some marginal worming to rear most pages, but no loss of text resulting. Early signature of Henry Winterbottom on first leaf.
This is the last work published by Myles Coverdale, the noted translator of the English Bible. Coverdale collected the letters written by Protestants who were persecuted and martyred in the reign of Queen Mary. He compares them to martyrs of the early Church but distances them from the "false, counterfayted legendes" of the Saints canonized by the popes. Includes letters by Archbishop Cranmer, Ridley Bishop of London, Hooper Bishop of Gloucester, John Bradford the Martyr, L. Saunders, John Careles, Lady Jane Grey, etc. The printer, John Day, was also persecuted and imprisoned by Queen Mary. While the body of the book is set in black letter, it is mixed with Roman and Italics of his own design, mainly for the quotations in Latin. "Includes letters by John Bradford ("An exhortacion to the carienge of Chrystes crosse", STC 3480.5); John Careless; Thomas Cranmer ("The copy of certain lettres sent to the Quene, and also to doctour Martin and doctour Storye" (STC 5999); John Hooper ("A soveraigne cordial for a Christian conscience", STC 5157, and "Whether Christian faith maye be kepte secret in the heart, without confession therof openly to the worlde as occasion shal serve", STC 5160.3); John Philpot; and Nicholas Ridley ("A frendly farewel", STC 21051)." - ESTC, S108888. STC 5886. Additional note: This copy was sold at Sotheby's on 3rd April, 1967.