Atlas of New Jersey : Geological Survey of New Jersey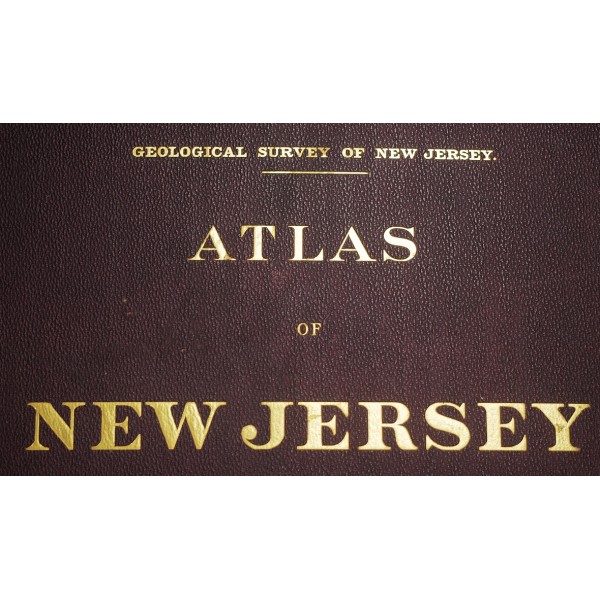 Atlas of New Jersey : Geological Survey of New Jersey
New Jersey Geological Survey; George H. Cook
New York, Julius Bien & Co., 1888
Atlas folio, 26 3/8 x 19 inches. Rebacked, with modern leather spine over publisher's gilt-lettered boards. Very good binding and cover. At head of title: Geological Survey of New Jersey. Scale of maps 1-17: 1 mile to an inch. 20 double page chromolithographic maps, 70 x 51 cm. Light toning. Collated listed of maps: no. 1. Kittatinny; no. 2. Southwestern Highlands; no. 3. Central Highlands; no. 4. Northeastern Highlands; no. 5. Southwestern Red Sandstone (Vicinity of Flemington); no. 6. Central Red Sandstone (Valley of the Passaic); no. 7. Northeastern Red Sandstone (The Counties of Bergen, Hudson, Essex); no. 8. Trenton; no. 9. Monmouth Shore; no. 10. Lower Delaware (Vicinity of Salem); no. 11. Camden; no. 12. Mount Holly; no. 13. Barnegat Bay; no. 14. Delaware Bay (Bridgeton); no. 15. Southern Interior; no. 16. Egg Harbor; no. 17. Cape May; no. 18 New Jersey State Map, Geographic; no. 19 New Jersey Relief map, Hypsometric; no. 20 Geological Map of New Jersey.
2nd edition (1st was published in 1884, this edition has an additional map not present in the first). According to Felcone, this atlas represents the first accurate mapping of New Jersey, the result of the first topographical survey based on triangulation of an American State. LeGear. Atlases of the United States, L5609; Schwartz, Seymour I. and Ehrenberg, Ralph E. The mapping of America, p. 310. Rumsey, 2902.
This is an oversized or heavy book, which requires additional postage for international delivery outside the US.