Assessors' Plans Town of Brookline, Mass. (1930-1939) [11 volume set]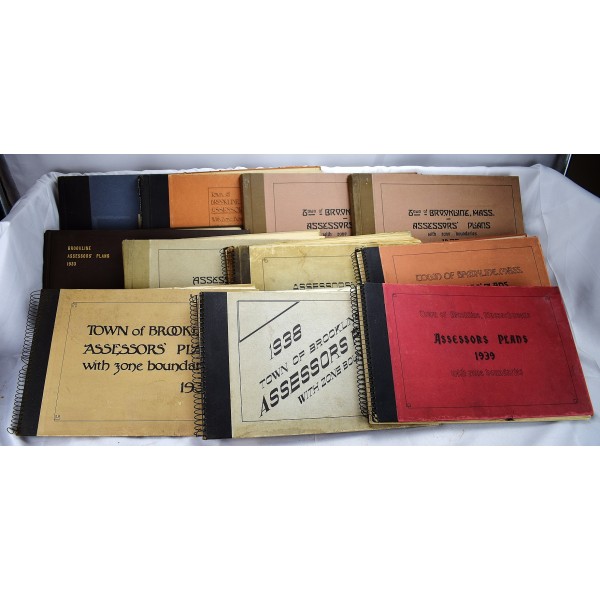 Assessors' Plans Town of Brookline, Mass. (1930-1939) [11 volume set]
Town of Brookline (Massachusetts); Henry A Varney
Boston : Planographed by Spaulding-Moss Co, 1930
[Depression-era township maps of Brookline, Mass] 11 volumes, comprising the years: 1930-1939. Oblong folios, 28.5 x 43.5 cm. Contents include: Geographical Street Index; Alphabetical Street Index; Zoning Law; Plans Showing: Lot Boundaries, Assessed Areas, Owners, Buildings, Zone Boundaries. Internally generally excellent (with the exception of 1937), each volume containing more than a hundred pages of maps of the township, including the names of the owners. Five of the volumes in original metal spiral bindings. One of the volumes completely rebound in cloth. Boards of 1935 edge worn. 1937 has some light marginal dampstaining throughout. Rear board of 1939 has some water damage. Minor stain on the front board of 1939.
Includes related ephemera, including legal agreements and planning for the Walnut Hills Cemetery. Also includes a signed 19th century petition, with 16 contemporary signatures, dated 1849. The petition is from property owners addressed to the town's selectman to deny authorization of the construction of a street. Some of those signed: William Amory, Stephen H. Perkins, William Dwight, Ignatius Sargent, J.C. Warren, William Perkins, Charles Heath, Thomas Lee, Charles Warren, Sam Cabot, William Oliphant, John Moore, John Eliot Thayer, Thomas H. Perkins etc. Perkins was a prominent Boston merchant and highly successful opium dealer.
Includes the Assessments for: 1930, 1931, 1932: No. 21 & No. 25 (Town Accountant), 1933, 1934, 1935, 1936, 1937, 1938, 1939. Norfolk County. Future President John F. Kennedy's house at 83 Beals Street in the Coolidge Corner neighborhood is listed in the maps.