Apuleii Opera Omnia: Ex Editione Oudendorpiana cum Notis et Interpretatione in Usum Delphini Variis Lectionibus Notis Variorum Recensu Editionum et Codicum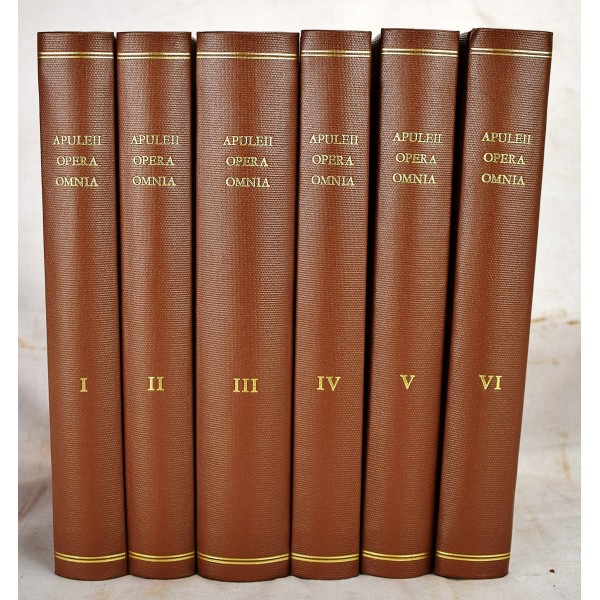 Apuleii Opera omnia : ex editione Oudendorpiana cum notis et interpretatione in usum Delphini variis lectionibus notis variorum recensu editionum et codicum et indicibus locupletissimis accurate recensita (6 volumes)
Apuleius.; Frans van Oudendorp; Abraham John Valpy
Londini, curante et imprimente A.J. Valpy, 1825
6 volume set. Rebound in modern cloth. Gile lettering, head and tail lines. Solid bindings and covers. Text printed in double columns.
Contents: v. 1. Metamorphoseon lib. I-X.--v. 2. Metamorphoseon lib. XI. Florida. De deo Socratis. De dogmate Platonis. De mundo.--v. 3. Apologia. Fragmenta. Index.--v. 4-5. Notae variorum.--v. 6. Notae variorum (Cont.). Notitia literaria. Recensus codicum mss. (p. [3333]-3345) <br> Scriptores latini in usum Delphini, fasc. LXX-LXXV.
Clergical bookplate of Bishop John Jebb of Limerick, Ardfert and Aghadoe. Jebb (1775-1833) was an important Irish churchman and writer. Marbled end sheets. Brookline library stamps.