The Scourge; or monthly expositor of imposture and folly (11 Volumes)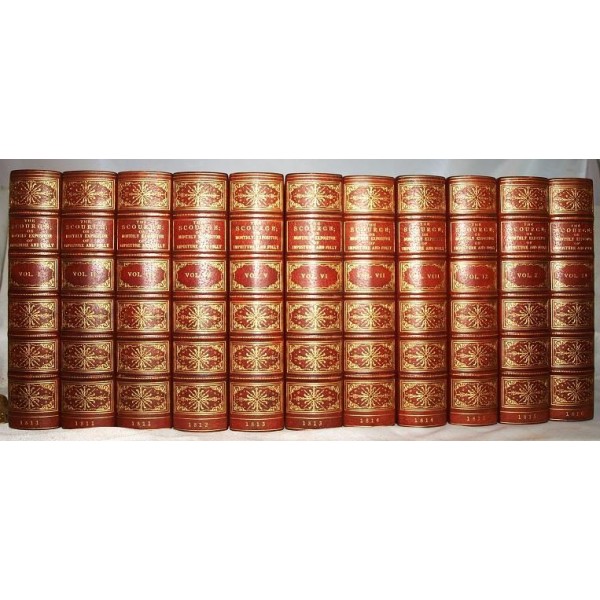 The Scourge; or monthly expositor of imposture and folly. 11 Volumes. [With coloured illustrations by G. Cruikshank and others.]
Hewson Clark; George Cruikshank

London: M. Jones, 1811
11 volume set in accompanying slipcases. Lacking Volume 12.  63 of 66 plates, including 33 by George Cruickshank.  Original paper boards. Paper spine labels. Each volume is held in a red cloth bound folding case.  Slipcases are bound in 3/4 late 19th century red Moroccan leather. Marbled boards. Gilt spines. 5 raised bands. Slight sunning to head of slipcases. Shelfwear. Cracking to spines of books, with chip loss to head and tail of volumes.  Some of the original covers detached. Signature of Major Hart to flyleaves. Armorial bookplate of William Sankey. Alexander Meyrick Broadley copy, his bookplate.  Lacking all ads and Vol 7's last 3 text leaves. 2 plates detached (Vol 1, Pt. 1 and Vol X, Pt. 5). Vol 7, Part 1's first plate mounted on paper backing, 2 other plates with minor repairs to blank rectos (not noticeable from image side), 1 other plate with partial splitting along folds. Page number pencil notation in margin at upper right corner of most plates in last 3 vols. 2 plates in first volumes have more extensive pencil notation on their blank recto. Minor foxing mostly to text, plate images very good to near fine. Vol 2, Part 5's contents leaf loose. Vol 6, Part 1's last leaf creased. Tear to Vol 7, pp55-56. Cohn 732. Jerrold, Appendix I, #2.

"Between 1811 and 1816 we have to note rapid strides in strength, in range of experience, and development of sympathy with the progress of the world...Within this interval Cruikshank broke ground, and made a stand as a political cartoonist" (Jerrold, The Life of George Cruikshank, Vol. I, p. 84).
"'The earliest bread-winning engagement of young George appears to have been in connection with a satirical periodical called The Scourge...'"(George Augustus Sala, as cited in Jerrold, Vol I, p. 106).