The Principles and Practice of Medicine : Designed for the Use of Practitioners and Students of Medicine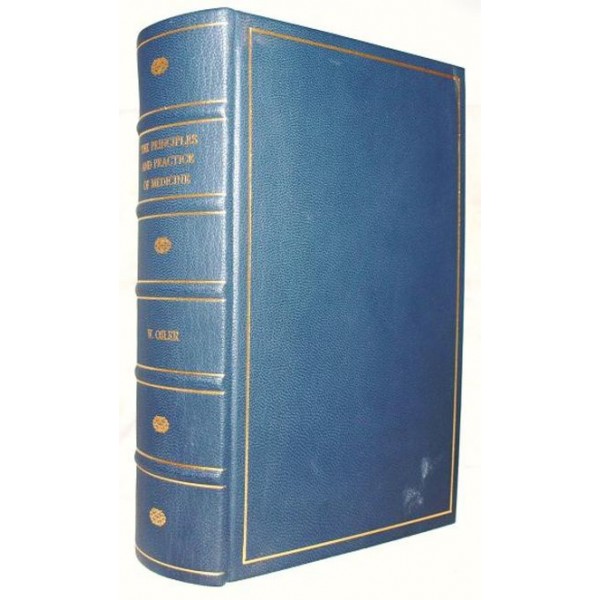 The Principles and Practice of Medicine : Designed for the Use of Practitioners and Students of Medicine
Sir William Osler
Sequitur Press, 2014
Hardcover.
Bound by hand in fine leather with silk ribbon. Gilt stamping to spine. A gorgeous book. Printed in America. Made by hand in in the United States of America.
xvi, [2], 1079, [7], 8 p. : illustrations. (4 colored.) ; 24 cm. Fine binding and cover. Hardcover. Reprint of D. Appleton and Company, 1892, "2nd issue with Gorgias". Full facsimile of the original edition. Extra care and expense has been made to ensure a superior book.
Sir William Osler was a Canadian doctor and one of the four founding professors of Johns Hopkins Hospital. The Principles and Practice of Medicine was Osler's most famous work. "The timing of the textbook was almost perfect. Principles and Practice was at once a monument to the achievements of nineteenth-century scientific medicine and a gateway to the twentieth century. Osler had mastered the mainstream clinicopathological tradition of the past seventy years. He was thoroughly up on the bacteriological work of the 1880s that had solved such a central conundrum in the etiology of infectious disease. With a few exceptions, his accounts of the natural history of disease still make sense, in some instances are considered classic. In 1892 the endocrine system had not been understood, the body's immune system was still a mystery, viruses could not be identified, principles of nutrition and genetics were largely unknown, and x-rays, electrocardiographs, and scores of other diagnostic devices had not yet been developed" (Bliss, William Osler: A Life in Medicine). Garrison and Morton 2231; Haskell Norman, Grolier Medical 82.