War Drawings. Edition de Luxe. From the Collection presented to the British Museum by His Majesty's Government. (6 parts)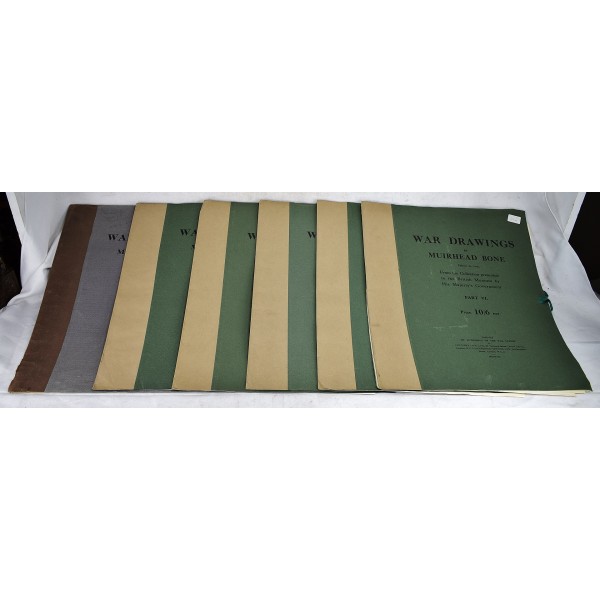 War Drawings. Edition de Luxe. From the Collection presented to the British Museum by His Majesty's Government. (6 parts)
Muirhead Bone, Sir; Great Britain; Muirhead Bone, Sir; Douglas Haig, Sir; C E Montague
London: Published by Authority of the War Office by Country Life Limited and George Newnes Limited, 1917
[The Great War Through British Eyes] 6 volumes. Large folios, 79 x 66 cm. Limited edition, de Luxe. Bound in publisher's green wraps. 60 plates total. 6 light card fascicules each containing a loose contents leaf and 10 lithographic prints. Parts 6 has a partial split at spine.
Sir Muirhead Bone was a Scottish etcher who served as the first Official British War Artist during the First World War. He was in France in 16 August, 1916 during the Battle of Somme and much of this work was created from his observations there. Muir's work was featured in the British War Propaganda Bureau's "Britain's Efforts and Ideals" exhibitions.
Important Note: While de Lux, this is not the signed edition of 50 sets.