United States of America, petitioner, v. Standard Oil Company of New Jersey et al., defendants (16 of 21 volumes) + 7 supplemental volumes on US Petroleum Industry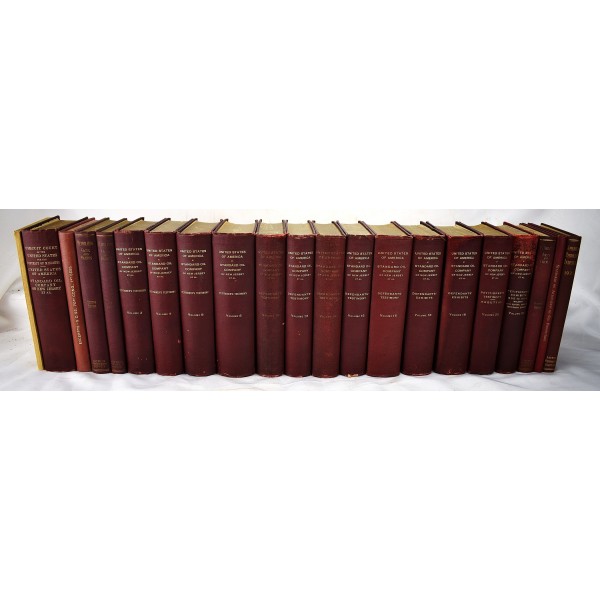 United States of America, petitioner, v. Standard Oil Company of New Jersey et al., defendants (16 of 21 volumes) + 7 supplemental volumes on US Petroleum Industry
Standard Oil Company,; United States. Circuit Court (8th Circuit); Frank Kellogg; John D. Rockefeller, William Rockefeller; Henry M. Flagler; John C. Milburn
Washington : Govt. Print. Off., 1908-1910.
[Ground breaking anti-trust case against Rockefeller's Standard Oil Trust] 16 (of 21 volumes) + 7 supplemental volumes. Bound in publisher's red cloth. Good bindings and covers. Contents: v. 1-2, 4-6 (Petitioner's testimony); v. 12-17. The Defendant's testimony; v. 18-19. Defendant's exhibits & index; v. 20. Petitioner's testimony, rebuttal; v. 21. Petitioner's exhibits: 855 to 1044, with general index to Petitioner's exhibits. [Important note: Lacks 5 volumes: v.3 of the Petitioner's testimony; v. 7-10. Petitioner's exhibits; v. 11 of the Defendant's testimony.] Pages are clean and unmarked. Includes numerous fold out diagrams, facsimiles, exhibits. Some minor discoloration to v. 21. Includes 7 supplemental volumes: American Petroleum Institute on Petroleum Facts and Figures, 1929, 1930, 1931, 1935. Final report of the Marketing division, Petroleum administrative board, 1936. Two additional volumes of Congressional Oversight of the oil & gas industry. Clean and unmarked pages.
"Standard Oil Company was incorporated by John D. Rockefeller in 1870 and began spreading its tentacles throughout the oil industry. By 1879 it controlled 95% of the refining capacity of the United States, and had become "the nucleus of an almost nation-wide industrial organization, the richest and most powerful in the country." In 1882 the Standard Oil Trust was set up, creating the first trust in the sense of a monopoly in American history. In 1892 this was successfully contested, whereupon twenty constituent companies were organized, with unity of action and control maintained by informal agreement. Public antipathy to monopolies had crystallized finally in 1890 with the Sherman Antitrust Act. Its use against industrial monopolies was rare at first, unions being the principal defendants during the first years. Under Roosevelt, however, the era of trust-busting began, the major target being Standard Oil. Anti-trust suits were filed against the company in late 1906 and made their way up through the courts. After hearing the arguments in 1910, the Supreme Court ordered its dissolution into 33 independent subsidiaries on May 15, 1911." - John Holmes Jenkins.
From the library of W. B. Watson Snyder. Snyder, the Justice Department's expert on the oil industry responsible for regulating the industry.
This is an oversized or heavy book, which requires additional postage for international delivery outside the US.