Traite de la preuve par temoins en matiere civil contenant le commentaire latin et francois de Jean Boiceau sur l'article 54 de l'ordonnance de Moulins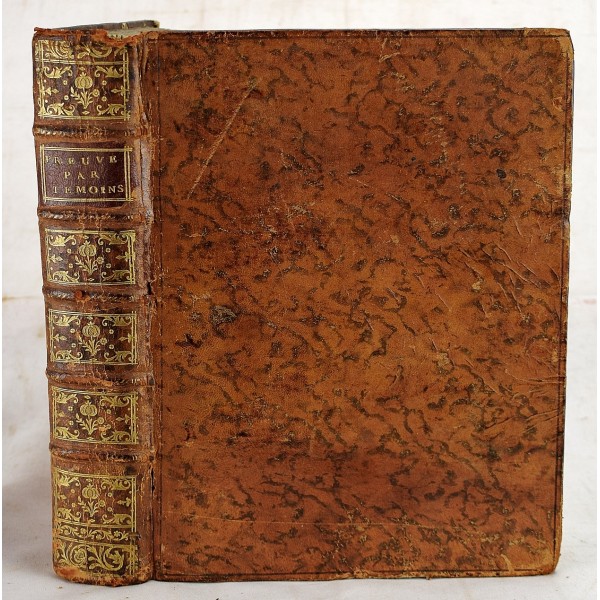 Traite de la preuve par temoins en matiere civil contenant le commentaire latin et francois de Jean Boiceau sur l'article 54 de l'ordonnance de Moulins, avec plusieurs nouvelles questions et des observations par Danty, avec le traite de la preuve par comparaison d'ecritures par Le Vayer
Le Vayer.; Jean Boiceau; Danty.
Paris : Delalain, 1769
[French Civil Law.] Bound in contemporary, French mottled calf. Gilt decorated spine. Good binding and cover. All edges dyed red. Marbled end sheets. 1 preliminary leaf, [vii]-xl, 866 pages ; 26 cm. Internally, generally clean (slight marginal browning to preliminary pages). Still, a nice copy. "Avec plusieurs nouvelles questions tirees des plus celebres jurisconsultes, & decidees par les arrets des cours souveraines; et des observations sur l'article LV de l'ordonnance de Moulins, & sur le titre XX de l'ordonnance de 1667; le tout confere avec l'edit perpetuel des archiducs, les ordonnances, statuts & coutumes de Milan, de Bologne-la-Grasse, de Naples, de Portugal, & des autres pays qui ont rapport a l'usage du droit francois sur cette matiere; avec le Traite de la preuve par comparaison d'ecritures, de M. Le Vayer. Par M. Danty, avocat au Parlement."